Here's Why Grown Men Are Singing Sea Shanties On TikTok
One video claims, "2021 is the year of the sea shanty."
by Isabella Bridie DeLeo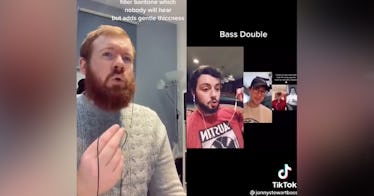 If you've spent time on TikTok or Twitter lately, you may be wondering: Why is social media suddenly filled with people singing sea shanties? Somehow, 2021 is proving to be just as dismal as 2020 was, and it seems that the internet has taken to sailor songs and virtual seafaring to feel joy again.
Nathan Evans, a Scottish musician, and postman posted a TikTok video of him singing the sea shanty "Soon May the Wellerman Come" on Dec. 27, 2020, and it immediately resonated with viewers likely due to its rhythm, Evans' bellowing voice, and the song's participatory nature. It doesn't feel like Evans is singing at us, rather, he seems to be calling for a crew to join him in a maritime adventure. And now the chorus, "Soon may the Wellerman come to bring us sugar and tea and rum / One day when the tonguin' is done we'll take our leave and go" has been heard and duetted in all kinds of creative ways, with even Kermit the Frog and Smash Mouth somehow getting their names attached.
In 2021, social media users are probably clamoring for something that can make people briefly forget about disasters in public and political life, from COVID-19 to the coup attempt on the Capitol. While we're not seafaring sailors, for many folks, distractions in the form of a viral TikTok song are still a welcome comfort. One viral video declares, "2021 is the year of the sea shanty."
For those unsure of what a sea shanty actually is, a little history. In the 18th and 19th centuries, a "shantyman" would start bellowing and call on fellow sailors to a collective song while working away on a ship. It was a way to establish a community and a rhythm with their fellow seafaring crew. And apparently, there was a different sea shanty depending on the task.
According to Gerry Smyth, a professor of Irish cultural history at Liverpool John Moores University, "If you were hauling sail, for example, the shanty was designed around the physical effort required to achieve that," and "Everybody would pull at the same time," following the rhythm of the song, according to The New York Times. The songs could be joyful or just a plain old distraction from the sometimes melancholy life at sea.
Smyth explains, "This communitarian aesthetic, it really does go back to a very ancient time." While singing sea shanties was a common practice on sea vessels in the 18th and 19th centuries, The New York Times notes that "The earliest sea shanties could be as old as seafaring itself. They tap into the story-sharing impulse of oral literature, which is even older still."
The song that started the viral moment, "Soon May the Wellerman Come" is based on real life, referring to the Weller brother's whaling company in New Zealand, and narrates the strenuous task of killing a whale, getting it onto the ship and butchering it. The lyrics, "One day when the tonguin' is done" is about removing the whale's tongue. And some suggest that the words, "to bring us sugar and tea and rum," could refer to the whaling industry's role in the the transatlantic slave trade, which might dim enthusiasm for the song.
"Soon May the Wellerman Come" is certainly an unlikely bop for 2021, but it's been intriguing to see the dozens of renditions and songs inspired by sea shanty go viral.
This article was originally published on