Quiet Scottie Pippen Really Made His Trash Talk Count
Without Scottie's mouth, the '90s Bulls might've missed their second threepeat.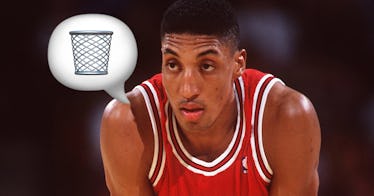 Getty
If he wasn't Michael Jordan, Michael Jordan might be remembered mostly as one of the most prolific trash talkers in NBA history. The Last Dance has made it clear that talking shit was second nature to Jordan, and that his teammates often bore the brunt of his verbal abuse.
Scottie Pippen was the quiet one. His personality, like his playing style, counterbalanced Jordan's. And yet it was Pippen's trash talk deep into game one of the 1997 NBA Finals that's remembered as maybe the most consequential in basketball history.
A new oral history of the moment on ESPN.com comes just a couple of days before, we can only hope, it's covered in the final episodes of The Last Dance. With the game tied late, Michael Jordan missed two free throws, giving possession back to the Utah Jazz.
Karl Malone, the Jazz forward who'd edged Jordan for the MVP award days earlier, ended up at the free-throw line himself. There were 9.2 seconds to play and the game was still tied, so these were about as big as free throws get.
Malone had begun his career as an awful free throw shooter, shooting just 48.1 percent in his rookie year. He worked with a psychological consultant, developed an elaborate pre-shot ritual, and greatly improved his shooting; that season he'd shot 75.5 percent from the line.
But before Malone could begin his ritual that night, Scottie Pippen leaned over and whispered a line he'd just thought of.
"The Mailman doesn't deliver on Sundays."
Malone's nickname, which he'd earned for delivering as a college standout at Louisiana Tech, had been weaponized against him.
"It actually wasn't personal," Pippen said. "Karl was my guy. He even came to pick me up from the airport sometimes when we were in Utah. My relationship with him is way more than basketball. It was a joke because my brother was a mailman."
Malone went through his routine, but his elbows looked tight as he released the ball and it bricked out badly. Pippen chirped to remind Malone of what had just happened, and the Jazz star walked towards center court, hands on hips, trying to compose itself.
The second shot was even more tragic. The ball made it halfway down the cylinder, seemingly on its way in, before bouncing out and into the hands of a waiting Jordan. Malone couldn't believe it.
The Bulls called timeout, and the ensuing in-bounds pass from Pippen went to Jordan, who nailed a jumper to win the game.
The Jazz would go on to lose the series four games to two, losing three of those four by a combined eight points. Malone's free throw didn't improve, and he finished the series going 12 for 26 from the charity stripe.
It's impossible to put the blame for the Jazz's loss squarely on Malone's bad free-throw shooting on the blame for Malone's bad free-throw shooting squarely on Pippen's classic line. But it's also not hard to imagine the dominoes that might have fallen — Malone makes those shots, the Jazz win game one, the Jazz win the series — had Scottie Pippen not dropped the perfect line at the perfect time.