The New Schwinn Stranger Things Bike Has Already Sold Out But Can You Still Get One?
by Amanda Tarlton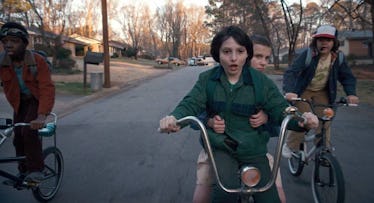 Netflix
Now you can take your Stranger Things obsession to the streets (literally) with Schwinn's newest bike inspired by the two-wheeler that Lucas Sinclair rides in the popular Netflix series. But there's some good and some bad news regarding the recent release.
The bad news is that the limited-edition bike, which came out on May 15, is already sold out on Amazon as Schwinn only produced 500 bikes. But the good news is that you can still get your hands on one via eBay.
However, be prepared to shell out some serious cash. The brand-new bikes listed on eBay currently run for $899.99, well over the original price on Amazon of $349.99.
For fans of the show, though, the cost may be worth it for the chance to ride like Lucas on what appears to be a really cool-looking bike. "This BMX-style ride is loaded with 1980's nostalgia and show-inspired details," the product description reads. "Enjoy the retro style banana seat with camo bandana and use the handlebar-mounted headlight for extra visibility and spotting Demogorgons."
Recommended for riders ages 6 and up who are between 4′ and 5′, the bike also comes equipped with an easy-to-operate single-speed drivetrain and a rear U-brake for safer stops. Plus, good news for parents—it has a limited lifetime warranty that's valid for as long as you (or your child) has the bike.
But if you aren't willing to pay nearly $1,000 for a kid's bike, you'll still be able to get your Stranger Things fix soon enough. Season three premieres on Netflix on July 4.