Junior High Vice Principal Placed on Leave for Forcing Student to Fill in Hair With Black Marker
by Amanda Tarlton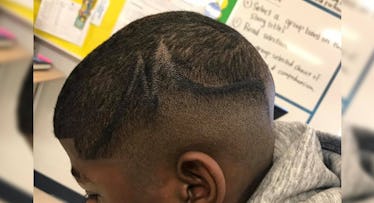 Angela Washington/Facebook
A Texas high school assistant principal is under fire after he forced a student to color in his hair with a permanent marker, claiming the boy's shaved haircut violated the school dress code.
When the student known as "Juelz" came to school with an "M" shaved on the side of his head, the assistant principal at Berry Miller Junior High in Pearland, Texas told him he could either call his mom, get an in-school suspension, or fill in the shaved area with a black marker.
Juelz' mom, Angela Washington, shared pictures of her son's haircut in a Facebook post on April 19. According to Washington, the school administrator "told [Juelz] he was out of dress code with his designs and decided to color my baby design with a PERMANENT MARKER!" Adding that "they did not call to inform me at all," the outraged mom said that "[the marker] is still in his head days later."
The school district says that the assistant principal has since been placed on leave. In a statement on Tuesday to the Houston Chronicle, they explained, "District administration has contacted the student's family to express our extreme disappointment in this situation, which does not fall in line with the values of Pearland ISD,"
It isn't the first time that a school employee has gotten in trouble for crossing the line when it comes to students' hair. In December, a California teacher was arrested for forcibly cutting one of her student's hair. That same month, another California school was attacked for denying a boy entry because he had dreadlocks.
"This is unbelievably unacceptable," one school district trustee, Mike Floyd, wrote on Facebook. "The culture in Pearland ISD must change, and the assistant principal who did this must be fired."
This article was originally published on