Here We Go Again: Schools Are Banning (And Talking About Burning) Books
Many of the books in question focus on race and LGBT issues.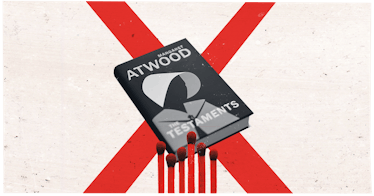 GETTY
Schools around the country are removing books from their libraries, citing what they claim is content unsuitable for children.
Just this week, Texas Governor Gregg Abbott expressed his concern with what he described as "pornography or other inappropriate content" in schools, according to Houston Chronicle.
But in reality, there hasn't actually been a recent scourge of offensive material sneaking into school libraries. Instead, these bans simply result in removing books that discuss the experiences of Black, LBGT, and other historically marginalized people.
In Goddard, Kansas, a suburb of Wichita, the school district has ordered 29 different books to be placed on hold from any checkouts, reports KMUW, a local public radio station. The books include Fun Home: A Family Tragicomic, a memoir by graphic novelist Alison Bechdel that was adapted into a Broadway play, and Fences, another Tony Award-winning play by August Wilson.
"At this time, the district is not in a position to know if the books contained on this list meet our educational goals or not," wrote one Goddard assistant superintendent, according to KMUW. She added that they're not banning these books per se, but putting them under review, KMUW notes.
A quick look at the list of books under said review, reported by KMUW, could raise some eyebrows. Fun Home is about Bechdel's childhood growing up as a lesbian kid in a dysfunctional family, and Fences is part of Wilson's revered "Pittsburgh Cycle" of plays about the Black experience during the 20th century. Other notable books on the list include The Hate U Give, a contemporary novel about a Black girl whose friend is killed by the police, and The Handmaid's Tale, a dystopian novel by Margaret Atwood about a repressive theocracy. The Handmaid's Tale is often taught in high school curriculums.
Officials in Spotsylvania Country, Virginia — between Richmond, VA, and Washington, DC — are going a step further. The school board there voted to tell school libraries to take out "sexually explicit" content, reports The Free Lance-Star, a local paper.
The discussion seemed to focus on the book 33 Snowfish by Adam Rapp, according to The Free Lance-Star, a novel about a group of homeless kids facing hardships such as violence, drug addiction, and sexual abuse. One school board member suggested that the book's presence in the library implied that the schools "would rather have our kids reading gay pornography than about Christ" and suggested burning books, the paper adds.
This crusade is beginning to go beyond individual school districts, too. Texas Governor Greg Abbott's new push, as reported by the Chronicle, claims to focus on sexually explicit and pornographic material. But, the paper adds, other people point out that these books are mostly about LGBT individuals and issues of racism — and call this new push a form of censorship.
In addition, one Texas lawmaker is questioning over 800 different books, many related to LGBT issues, sexuality, and race, according to reporting from the Texas Tribune. His list includes Between the World and Me by Ta-Nehisi Coates and The Letter Q: Queer Writers' Notes to their Younger Selves, the paper says. Other school districts around the country are having similar arguments, many focusing on books related to issues of race, gender, and sexuality.
These fights are reaching larger-scale politics as well — this election cycle, Republican candidate and now Governor-elect Glenn Youngkin of Virginia ran an ad with a mother criticizing the novel Beloved by Toni Morrison, reports The New York Times. The novel, which won the Pulitzer Prize in 1988, is about the horrors of slavery in America during the 19th century. It is also often taught in high school curriculums.
Throughout history, many books now considered classics have been banned at one point or another, notes Common Sense Media, a nonprofit focused on children's media. Formerly banned books include The Great Gatsby, To Kill a Mockingbird, and even The Adventures of Captain Underpants, the group notes.
But Common Sense Media offers a few reasons why kids should be reading books that some people want to ban. For one, they say, that book could end up being a classic, like many of the books referenced above (The Adventures of Captain Underpants included). In addition, books that describe difficult, complicated, and hard issues can help kids come to a more thorough understanding of the world and their own lives, the group says.
To raise truly resilient and civic-minded kids, we can't shy away from difficult issues. Kids exist in the world, and will have to navigate these issues in one way or another. Banning books takes away an opportunity to learn and removes a chance for children to gain broader, important perspectives on the world.
This article was originally published on