Sandra Oh's Parents Are a Reminder of Why Happy Childhoods Matter
Supportive parents = successful kids.
by Amanda Tarlton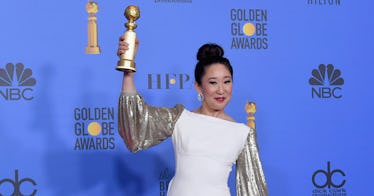 GETTY
Sandra Oh may have won the big award at last night's Golden Globes, but her parents are winning the Internet. In a viral video, Joon-Soo Oh and Young-Nam Oh are shown enthusiastically cheering for their daughter after she received Best Performance by an Actress in a Television Series Drama for her role in Killing Eve.
"There are two people here tonight that I'm so grateful they're here for me," Oh said in her acceptance speech. She then added, "Mom, Dad, I love you" in Korean.
At their table in the audience, the Oh couple, who also previously attended the Emmys with their daughter, were on their feet, grinning widely and applauding profusely. "We are so pleased," said dad Joon-Soo. "We are so proud of her."
Oh's parents certainly have plenty to be proud of when it comes to their 47-year-old daughter. Not only was she the first Golden Globes host of Asian descent (she co-hosted the show alongside Andy Samberg), but she also became the first Asian actress to win multiple Golden Globes.
The Grey's Anatomy actress is proof that a parent's support can play a major role in the success of their children. And it's something that Oh is very thankful for, according to an interview after the awards show.
"As for my parents, who are amazing, amazing people and internet sensations," she told POPSUGAR, "they're so happy, and it's just the kind of thing, for Asian kids to make our parents happy; it's so fulfilling. I'm just so grateful that they were here and able to come."
The idea that a creative person has to have an unhappy childhood or some kind of tragedy with their parents in order to become themselves is a pervasive myth. In fact, as Oh's tribute to her nurturing mother and father proves, being great parents doesn't just end with childhood.
This article was originally published on