San Francisco's K-12 Schools Have Had No COVID-19 Outbreaks. Here's How
Outbreaks have plagued K-12 schools across the country since schools have reopened. San Francisco has avoided one so far.
by Ethan Freedman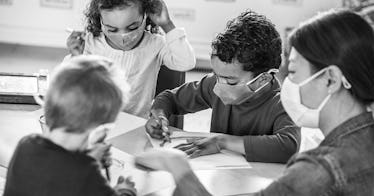 While many parents across the country fret about their kids returning to school amid a still-raging pandemic, one city has so far been spared from some parents' worst fears.
As of last week, San Francisco's schools have had no COVID-19 outbreaks since opening for the fall, the San Francisco Department of Public Health (SFDPH) reports, despite being open since mid-August. The department of health defines an outbreak as three or more cases originating from infection in school.
NPR reports that this achievement came even amid a nationwide increase in pediatric COVID-19 cases, citing data from the American Academy of Pediatrics and the Children's Hospital Association. In some states, children's hospitals are "at capacity."
While there haven't been any outbreaks in school, some people have tested positive since schools reopened, though case numbers remain low. San Francisco public schools reported 227 COVID-19 cases among over 60,000 staff and students between August 16, the first day of school, and September 8. And by September 3, private, charter, and parochial schools reported 61 cases among over 25,000 students and staff.
There may be a few reasons for the lack of widespread outbreaks. For one, cases are currently declining city-wide. After hitting a peak of 309 average cases per day in early August, coronavirus cases in San Francisco dropped to 100 per day by early September. This decline comes even as the more contagious Delta variant makes up over 98% of cases in California.
City schools have also implemented public health measures that may have helped stem infections. For one, while children under 12 are still ineligible for vaccination, SFDPH estimates that 90% of those between the ages of 12 and 17 are fully vaccinated already.
And city-wide, the CDC estimates that nearly 80% of the population had been fully vaccinated by September 13. California is also requiring that all school staff either get vaccinated or face weekly testing by mid-October.
But vaccination is just one tool in local schools' infection-fighting toolbox, and it looks like San Francisco is following the CDC recommendation of providing "layers of protection" to kids who may not be vaccinated and who are in a vulnerable position in schools, where they come into contact with far more people than they might have earlier in the pandemic when schools were closed.
In all San Francisco Public Schools, masking is required except during recess and while eating. In addition, according to reporting from the San Francisco Chronicle, some classrooms are keeping their windows open or using air purifiers to increase ventilation.
Still, SFDPH officials noted the importance of vaccines, calling them "the best defense to protect children." They added that most of the city's COVID-19 cases in children were due to unvaccinated adults infecting a member of their household, and "highly encourage[d]" everyone 12 and older to get vaccinated as a way to safeguard younger kids.
This article was originally published on