Sam Neill Shares Photos from the Set of 'Jurassic World: Dominion'
We're not talking about Jeff Goldblum.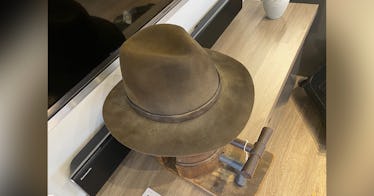 After a nearly three-month delay due to COVID-19, filming on Jurassic World: Dominion resumed on July 6. Nearly a month later, Sam Neill made his own return to the set, which means his delightful Twitter presence is now a chronicle of the experience, which is good news for everyone.
Neill will be reprising his role as Dr. Alan Grant for the first time since 2001's Jurassic Park III, and judging by his tweets he's practically giddy with excitement. There's the reunion with Jeff Goldblum and Laura Dern, who are also returning to the franchise for the first time in two decades, but it seems that Neill might be just as excited about getting back together with another old friend: his fedora.
On Tuesday, he posted a picture of the iconic leather fedora Jurassic Park III — an upgrade from the straw model he wore in the earlier films — with the caption "Hello old friend."
Neill also posted a shot of his and Dern's chairs from the set, each with the name of their character printed on the back. Dern originally posted the photo to Instagram, but Neill's addition of the hashtag #megafunosaurus deserves a shout-out.
These photos from the set follow another tweet, sent a few days earlier, about how excited Neill was about returning to the franchise and, yes, getting his old hat back.
Jurassic World: Dominion is currently set for release on June 11, 2021.