Ryan ToysReview Accused of Lying to Its Preschool Audience in FTC Complaint
The complaint raises the question: is it possible to ethically advertise to preschoolers at all?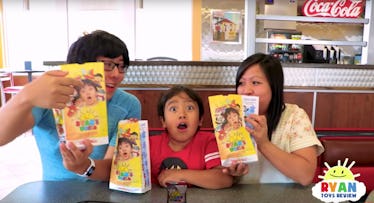 YouTube/Ryan ToysReview
An extremely popular YouTube channel targeted at kids stands accused of lying to its young viewers about which of its videos are actually paid advertisements.
In a complaint filed with the Federal Trade Commission, advocacy group Truth in Advertising (TINA) alleges that Ryan ToysReview, one of the most popular channels on the video-sharing site, "deceptively promotes a multitude of products to millions of preschool-aged children in violation of FTC law."
The channel is devoted to toy reviews starring Ryan Kaji, a seven-year-old kid who, along with his parents and twin sisters, has built a multimillion-dollar and multibillion-view empire.
The channel bills itself as "for kids by a kid," and TINA argues that its intended audience is preschoolers. It found that 92 percent of its videos published between January 1 and July 31 contained at least one product recommended for kids under five or were advertisements for a preschool show on Nickelodeon or Ryan's younger sisters' own channel.
Why does that matter? Federal law requires "clear and conspicuous" disclosures that "consumers notice, process, and understand." TINA argues that, because the target audience for Ryan ToysReview is preschoolers disclosures must be easily understood by them.
Any less would be tantamount to a lie of omission, and Ryan ToysReview has been doing a lot less. TINA's complaint describes the audible disclosure as not in Ryan's voice, less than two seconds long, and played right after a pre-roll advertisement, "making it highly unlikely that Ryan's preschool fans will notice" it.
The printed disclosure is even less effective, as preschoolers generally can't read, much less understand what "this is an ad for Nickelodeon" means.
For his part, Shion Kaji, Ryan's dad, released a statement that the channel "strictly follows all platforms' terms of service and all existing laws and regulations, including advertising disclosure requirements."
But given the limited cognitive abilities of kids this age, it's entirely possible that there is no disclosure of native advertising that could be adequate, particularly in light of the blurred lines between commercials and paid content on YouTube versus a traditional TV station.
If the FTC decides it doesn't, the agency could severely limit how Ryan ToysReview and other kid-focused internet outlets can monetize their content. That would be bad for them but good for parents who aren't quite ready for their kids to be targeted by advertisers.
This article was originally published on