This Kid's 'Rugrats' Halloween Costume Just Won the Hearts of '90s Kids Everywhere
You've never seen a better Chuckie Finster costume. Ever.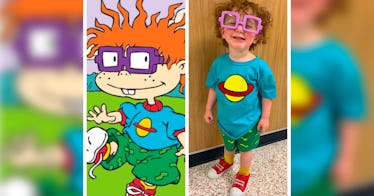 Lainey Paschal/Facebook
Zacariah Paschal may not be a '90s kid—he's a kid now, actually—but his Halloween costume is one that every kid who grew up during the Clinton administration can appreciate.
Paschal dressed up as Chuckie Finster, the beloved ginger best friend of Tommy Pickles on Rugrats, one of the seminal television programs of its generation. Every detail was spot on: red sneakers, yellow socks, green pants with some kind of abstract pattern, a blue shirt with a generic planet on it, and purple square glasses. And luckily, Paschal already has the curly red locks to complete the outfit.
His mom Lainey told Romper that his hair "made it that much more of a reason to do" a Chucky costume, but his personality, what she calls "such a sweet disposition" also matched Chuckie's and made the costume an even more obvious choice.
Lainey posted side-by-side comparison to Facebook with the caption "I say we nailed it!!!! 🥰😍 he's so dang cute!!!" Now every parent thinks their kid is "so dang cute," of course, but in this case the people seem to agree with Lainey. Her post has garnered over 94,000 shares, over 94,000 people who wanted their friends to see just how good Zacariah's costume was.
Lainey was, of course, the driving force behind the costume. Her "childhood and love" for the cartoon was the inspiration, and it's good to see younger kids getting exposure to what '90s kids agree is a classic.
This article was originally published on