Is Roblox Safe For Kids? IPO Raises Questions
Here's what parents need to know.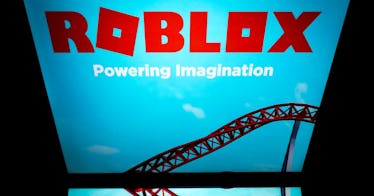 Getty
Is Roblox safe for kids? Investors are wondering after Roblox filed for a multi-billion dollar public offering.
Roblox is hoping to ride the "rapid growth" it's experienced during the COVID-19 pandemic onto the New York Stock Exchange. Roblox users spent 22.2 billion hours on the platform in the first nine months of the year, up 122 percent compared to last year.
If you have kids who are old enough to use an iPad, chances are that they've played Roblox games. But is Roblox safe for kids? And what about the scandals with inappropriate content or simulated Roblox sex? Here's what parents need to know.
What is Roblox?
Roblox the company operates Roblox the gaming platform. It's designed to appeal to kids and allows them to create their own games using a simple programming tool. It currently hosts millions of such games, a testament to its popularity: one Roblox advisor said that three-quarters of US kids between nine and 12 have used the platform. Wow.
How does Roblox moderate its content?
The company has a "no tolerance" policy against profanity and other offensive content, and it implements a variety of measures to enforce it. There is "a stringent safety system, including proprietary text filtering technology, third-party machine learning solutions, and customized rules on what to block, which we update daily," a company spokesperson told Reuters.
Sixteen hundred employees work full-time to keep the platform clean according to the company, but that staff is dwarfed by the 150 million monthly active users on the platform as of July.
Is Roblox safe for kids?
Kind of. For the most part, Roblox is a safe space, and the company has clearly invested a lot of resources in this goal. But its efforts are not foolproof, as there are simply too many people using the platform to keep up. Parents naturally want a zero percent chance their kid will be exposed to age-inappropriate content, but that's not a promise Roblox or any similarly open platform can make.
Roblox acknowledged in its filing that "from time to time inappropriate content is successfully uploaded onto our platform and can be viewed by others prior to being identified and removed by us."
Reuters found that some pretty obvious words had managed to sneak by the content filter, often using simple misspellings, that simply should not happen. And it's not just naughty words that parents have to worry about.
Last year, NBC found that neo-Nazis had infiltrated the platform. FastCompany found a truly bizarre game full of naked Roblox avatars simulating sex acts just a few months ago.
What can parents do?
Well, parents can keep their kids off of Roblox by implementing parental controls on all of their devices. But its aforementioned popularity means that it might be hard to resist your kids' repeated entreaties to use the platform. It might be better to limit them to a curated list of games on the Roblox platform that have been more closely vetted for users under the age of 13.
As with everything that brings kids into contact with the internet, Roblox is a mixed bag. It's a creative outlet and valued community for many during the pandemic, but there are inherent risks, and parents would do well to talk to their kids about things they might encounter on the platform before giving them the green light to use it.