New Batman Actor Is Robert Pattinson and People Have Thoughts
by Amanda Tarlton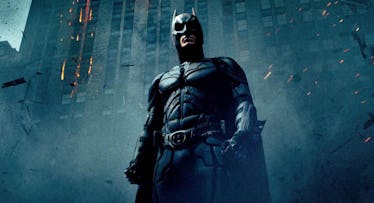 Warner Bros
This article has been updated.
After weeks of speculation, the rumor that Robert Pattinson would become the next Batman has been confirmed by Warner Bros. According to inside sources executives at Warner Bros were deciding between Pattinson and Nicholas Hoult, famous for playing Beast in the most recent X-Men movies. But now, the next Batman is a Vampire, not a Beast!
(Original news follows.)
The city of Gotham has a new hero: and he comes in the form of Robert Pattinson. On Thursday, Variety reported that the Twilight star will play the Dark Knight in Matt Reeves' upcoming superhero film The Batman.
According to the media outlet, "while sources say it's not yet a done deal, Pattinson is the top choice and it's expected to close shortly." With rumors that Nicholas Hoult may also still be in the running, Warner Bros has yet to confirm the casting.
At 33 years old, Pattinson will be the second-youngest Batman ever, behind Christian Bale who was 31 when he played the caped crusader in Batman Begins in 2005. And while some question whether Pattinson—who started his career in Harry Potter and the Goblet of Fire before becoming a teen heartthrob in Twilight—can handle such a dark role, others argue that his leading role in Christopher Nolan's upcoming action film is proof that he can.
The debate over who would be the next to hold the Batman title has been going on ever since Matt Reeves, who's best known for Planet of the Apes, took over as director for the new Batman flick following Ben Affleck's departure from the franchise in 2017.
"I have loved the Batman story since I was a child," Reeves told Polygon. "He is such an iconic and compelling character, and one that resonates with me deeply." The director also explained to Gizmodo that his take on the comic will be a bit different: "It's very much a point of view-driven, noir Batman tale… I hope it's going to be a story that will be thrilling but also emotional. It's more Batman in his detective mode than we've seen in the films."
Unsurprisingly, Bat-fans have already started voicing their opinions, both for and against the all-but-confirmed casting of Pattinson as Bruce Wayne/Batman. For longtime fans of Batman, this kind of backlash, defense, and general snarkiness is old hat.
The reality is, that every single time a new big-screen Batman is a cast, there will always be a vocal group of villains yelling about it. But, Michael Keaton was a great Batman in 1989, despite Warner Bros and DC Comics getting death threats over that casting. If anything, this role — not Cedric Diggory or Edward Cullen — could define Pattinson for years to come.
The Batman is set to be released in theaters nationwide on June 25, 2021.