Racist Family Is Using a Weird Loophole to Save Robert E. Lee Statue
Its argument against removing the statue is based on a deed signed in 1890.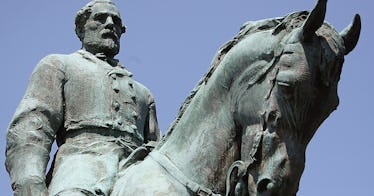 Getty
Imagine wanting to preserve a racist statue. It's very hard for most families to imagine this, but at least one family is trying to do it. Here's what's going on.
A Virginia judge has temporarily saved the statue of Robert E. Lee on Richmond's Monument Avenue, sparing it the fate of monuments to historic racists in Philadelphia, Brighton, Antwerp, Boston, and other cities around the world as protests against racial injustice and police violence continue.
The ten-day injunction was issued in response to a lawsuit from William C. Gregory, who claims to be a descendant of two signatories to the March 1890 deed that transferred ownership of the site to the commonwealth. Under the terms of that deal, Virginia agreed to "faithfully guard" and "affectionately protect" both the 21-foot monument and 40-foot pedestal. Gregory says that removing them would be an abdication of this responsibility.
The judge isn't saying that Gregory's argument is correct; he's saying that it's in the best interest of the public for the argument to be resolved before Virginia Governor Ralph Northam's order to remove the statue is carried out.
"(Gregory's) family has taken pride for 130 years in this statue resting upon land belonging to his family and transferred to the Commonwealth in consideration of the Commonwealth contractually guaranteeing to perpetually care for and protect the Lee Monument," the lawsuit says.
There are two possibilities here, neither of which makes a very convincing case that the statue should stay.
First, there's the possibility that a 130-year-old land deal is actually an enduring source of pride for the Gregory family, which is very weird and not a good way to decide how to use a piece of publicly owned property. If this is the case, he must know and simply disregard the corresponding pain the descendants of the people Lee fought to keep subjugated feel.
Second, Gregory is a white supremacist who is using this relatively palatable rationale to preserve a monument to white supremacy without coming out and saying that's what he's doing. This would make it quite easy to wave aside his opinion on the statue because of course a racist is going to like a racist statue.
Either way, it's apparently that Gregory doesn't deserve more of a say in what happens to the Lee statue than any other Virginia citizen. Here's hoping that a court ultimately finds that to be the case and that another statue of a white supremacist can be toppled, albeit many years (and in this case, ten extra days) too late.
This article was originally published on