Rich Parents Pay Buttloads to Turn Their Kids Into Athletes
Rich parents could inadvertently be pricing poor kids out of excelling in youth sports.
by Raz Robinson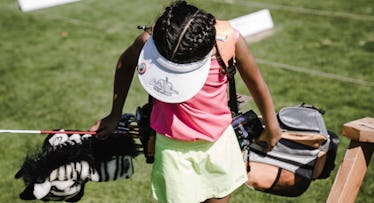 Pexels
When it comes to the development of youth athletes, it's a well-known fact that money will invariably play a huge role in determining a child's success at any given sport. Parents who shell out huge dollars for extra coaching, more gym time, and better equipment are raising kids who are better equipped to perform at the highest levels in their chosen sport. Parents who can't are simply less likely to do the same thing. The wealth often required to raise elite athletes has left the playing field less level than ever before and a recent report from the Wall Street Journal is showing just how much.
The profile looks at a handful of families across the US who sink hundreds of thousands of dollars, with million dollar investments in tow, into home gyms and athletic facilities in the hopes that it will propel their child to be a more competitive athlete. The Schoensees, one of the families from the report, spent around $120,000 (more than twice the median household income) to construct a 93 x 40-foot soccer filed in their yard. While it has made their son "a ridiculously talented soccer player," should he continue to excel it will have also set a new and less attainable bar for other kids.
"And keeping up with the Joneses isn't merely about wanting extras — it's about having opportunities for their children to succeed on their merits regardless of their income," wrote Bob Cook, a youth sports contributor for Forbes. "If you want examples of the negative effects of money as the arbiter of who gets to play, how about the struggles of the U.S. men's soccer team, or whole sports emerging as an enclave for the white and wealthy?"
Another family named dropped in the WSJ profile was that of Carolina Hurricanes head coach Rod Brind'Amour, who himself became a professional hockey player without an insane number of resources. But, Brind'Amour spent $80,000 on volleyball, basketball, hockey, baseball, and golf facilities for his kids, including his son Skyler, who now plays professional hockey.
One need look no further than the modern pro sports climate to tell that wealth has been and will continue to play a huge role. Steph Curry, Barry Bonds, Eli and Peyton Manning, Kobe Bryant, Klay Thompson— they're each among the best ever at their respective sports, and each of them is the child of a professional athlete as well.
None of this is to say that there shouldn't be room for wealthy kids to find success playing sports. Regardless of their resources, these kids all worked hard to excel on the field, rink, court, or where ever else they chose to compete. But it's become abundantly clear that the effects of their wealth are only disadvantaging other kids who deserve the right to be great too.