Rental Car Company Finally Offers Great Car Seats Without the Charge
This will definitely help some families cut cost on the road this summer.
by Raz Robinson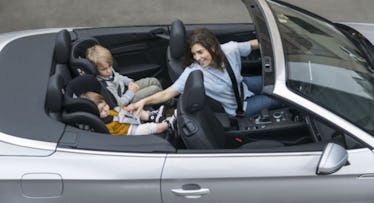 SILVERCAR
If you're traveling and don't pack a car seat for the rental car, chances are you'll have to shell out $10 to $15 a day per car seat. For a family with two young kids, this adds up to $140 for a week. Not great. One rental company is looking to make things a bit easier for traveling families: Silvercar rental service, thanks to a a recent partnership with baby gear company Peg Perego, will offer renters high-end car seats for free. Families will be able to take advantage of the new offer starting on May 13th
Car rentals through Silvercar are established through an online app, so once a parent gains access to the mobile app, they can then see their rental which will have already been outfitted with however many car seats the family requested. The car seats available are the Primo Viaggio Convertible and Viaggio Flex 120, both of which are top-end models.
Previously, the only way to get a free car seat with a rental was to be a AAA and also rent through Hertz. To rent a car through Hertz costs anywhere from $150 up to about $325 per day. And AAA costs anywhere from $66 to $100 a year per driver. The bigger the family, the harder it'll be to maintain that cost.
Still, there might actually be a really good argument for electing to bring your own car seat on vacation. First a foremost? Because it's yours. You know exactly how your seat works and you'll be in a car that you know very little about. That could save you precious seconds in an emergency. Beyond that, you also know the history of your own car seat. Like a bike helmet, car seats should be one and done. Once they take a big hit, they won't protect your child as well next time. It's impossible to know very much at all about the impact history, and subsequent safety, of any car seat that isn't yours. Better safe than, you know.