Rainbow Road Go-Kart Track Brings a Mario Kart Classic to Life
Fortunately this one isn't as perilous as the N64 version.
by Raz Robinson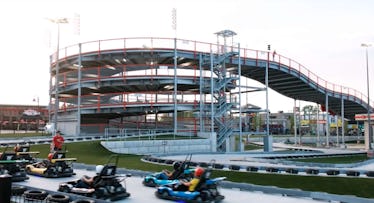 Niagara Speedway
A new go-kart race track in Niagara Falls, Ontario is appealing to American audiences by offering drivers the opportunity to race on a real-life Mario Kart track copied from the N64 version of the Nintendo classic. Specifically, the track in question is built to mirror Rainbow Road, the notoriously difficult and riotously colorful level that made ever stoner happy in 1992. Whereas that race took place in interdimensional space, this one takes place on an elaborately constructed platform, but the experience is largely the same.
Rainbow Road was a litmus test for any serious Mario Kart player. While each of the other levels in the game offered new and sometimes frustrating challenges in the form of tiny monsters or obstacles, Rainbow Road simply had no barriers, meaning drivers could fall off the sides of the tracks, losing valuable ground to racing adversaries. It was one of the few levels where going faster posed a serious threat. It was the only level perfectly described by its name.
The track at Niagara Speedway does, for the sake of safety, have sides. Still, it looks intense as hell. Whole portions of it take place on different levels, with drivers advancing up an enormous spiraling column before racing down a straightaway to the finish line. And it's a lot less expensive than the original N64 console (or the modern Switch). The price for the Niagara Speedway track is just $12 per driver per five-minute race. The only downside? You can't climb out of the karts then play Goldeneye.