Amy Schumer's Naked Pregnancy Photos Are As Insane As You'd Expect
by Amanda Tarlton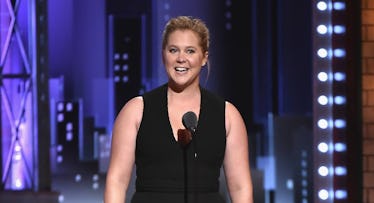 Getty
Amy Schumer has never been afraid to tell it like it is when it comes to her pregnancy. So it's no surprise that her recent photo shoot for a New York Times article was just as candid and raw, featuring a very naked, very pregnant Schumer running through a rainy park.
"On a chilly Nola morning it's best to chase ducks with nothing weighing you down except a baby," the 37-year-old posted on Instagram, along with a series of photos from the shoot. She added that the accompanying article, where she discussed her relationship, her pregnancy, and her career, was "brutally honest. My favorite kind of honesty."
The main picture, shot by photographer Heather Sten, shows Schumer wearing nothing but a pair of high-tops as she frolics in the rain. Another shot is of the mom-to-be covering her breasts with clumps of Spanish moss.
How did she feel about baring it all? "As someone who has been told a million times they are fat and ugly, it does not matter!" the comedian, who's expecting her first child with husband Chris Fischer, told the New York Times. And she's very much looking forward to meeting her little one, saying, "I think I will experience [some other level of joy] with a baby."
As always, fans are loving her refreshing honesty and realness with Wednesday's post already garnering nearly 250,000 likes. "You are an inspiration to women everywhere and will be a most excellent mother. Keep rocking the f out," wrote one woman, while another said, "I just love that you are so true to yourself and don't care what people think."
This article was originally published on