Portland Mom Punches Woman In Face As She Tries to Abduct Her Daughter
Even crazier, the abductor also tried to rob the family's home after the attempted kidnapping failed.
by Raz Robinson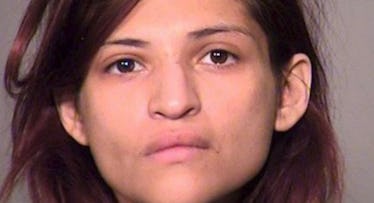 A woman was arrested in Portland, Oregon after she unsuccessfully attempted to kidnap a 6-year-old girl from in front of her home. Stephanie Romero was apprehended after being punched in the face by the girl's mom.
According to an affidavit, the little girl was outside playing with her brothers when Romero walked up to the front of the house, grabbed her by the wrist, and attempted to haul her away. The girl in question recalled Romero telling her that the two would be going to a bike trail. When the 6-year-old resisted and ran into her home, Romero weirdly decided to follow in an attempt to rob the house. Naturally, a confrontation with both the girl's mom and grandmother ensued but not before the stranger had begun collecting items from the house in a bedsheet.
Upon refusing to leave, the girl's mom attacked Romero and punched her before she finally fled the house. Police later arrested Romero for first-degree burglary, second-degree kidnapping, and third-degree theft. After being arrested she told police that she was homeless, diagnosed with bipolar disorder, and addicted to methamphetamine. Also, she just wanted to "save the kids."
Despite the fact that Romero was in treatment, court records show that her own child had been taken out of her care by the state. It's unclear if Romero's mental state will play a role in any further sentencing, but police records also show that this is her fifth arrest in the last 30 days. Her bond has been set at $352,500.