A Popular Flavor of Children's Advil Has Been Recalled Due to Concerns of Overdosing
A voluntary recall has been issued over fears that taking the medicine as directed could result in an overdose.
by Raz Robinson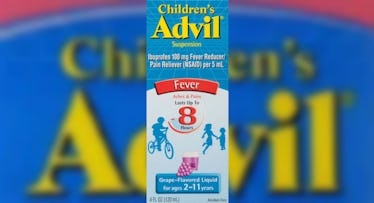 Pfizer
Pfizer Consumer Healthcare has issued a voluntary recall of one specific kind of Children's Advil Suspension Bubble Gum flavor due to fears that taking the medicine as directed could result in an overdose. This comes just one week after the major pharmaceutical company King Bio issued a recall of around 30 different medicines that tested positive for microbial contamination. Moreover, this has been a popular summer for the recall of several popular kids snacks due to salmonella contamination as well.
In the case of Pfizer Consumer Healthcare's current recall, nothing is actually wrong with the medicine itself. Instead, the problem seems to lie with the packaging. According to the alert, the dosage cup provided in the package is marked in teaspoons, while the instructions on the label are written using in milliliters. The recommended dosage of this medicine for a three-year-old is about five milliliters or one teaspoon.
This might seem like nothing more than a classic mix-up but if a person reads the label and it says five milliliters, they might not realize the measurements are different and administer five teaspoons based on the marks on the dosage cup. That's a serious health risk because five teaspoons well exceeds the safe three teaspoon dosage an 11-year-old would take and could kill a person even half that age.
All recalled medicines have the lot number R51129, and an expiration date of 11/20. Ibuprofen overdose can be pretty dangerous, and the most common symptoms include nausea, vomiting, headache, drowsiness, and blurred vision. Pfizer Consumer Healthcare is imploring people who have purchased this product to return it to the store where they purchased it for a full refund.
This article was originally published on