Poll: Most Americans Support School Mask and Vaccine Mandates
But unfortunately, levels of support changed across racial, age, and especially political lines.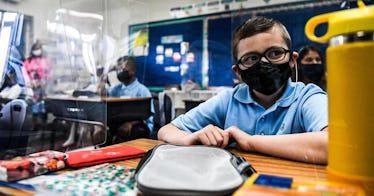 GETTY
A new poll found that nearly six in ten American adults support mask mandates for both teachers and students returning to K-12 schools.
But that support is not even across the board, and varying levels of enthusiasm among different groups mirror the contentious debates that are currently happening at school board meetings across the country.
The poll showed that more than 80 percent of Democrats support such mask mandates, compared to just about a third of Republicans. Black and Asian Americans are more likely to support mask mandates in schools, while White and Hispanic Americans are less likely. Those who graduated from college were more likely to support mandates than those who didn't, and those 60 and older are more supportive than those under 60.
Interestingly, parents are less likely to support mask mandates for teachers and students than non-parents are, though a majority of both groups are in favor.
The Associated Press and NORC at the University of Chicago, who conducted the poll, also asked about vaccine mandates for both groups, with the student question limited to those 12 and older who are currently eligible to be vaccinated. Those responses mirrored those of the mask mandate question, though there were generally slightly lower levels of support for vaccine mandates than mask mandates across demographic groups.
Of course, what people think about mandates doesn't change the fact that the best way to return to "normal" life—including students and teachers returning to in-person school—is for everyone to wear masks and get the vaccine. Mandates are an important tool in service of that goal, as it's clear that simply asking isn't enough to convince anti-mask, anti-vaxx folks whose minds have been poisoned by Facebook conspiracy theories and the unfortunate transformation of sane public health measures into a culture war issue.