More People Want a Mario Movie Than Any Other Video Game Movie
Even though one already exists.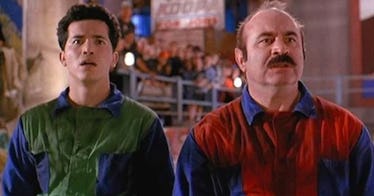 Hollywood Pictures
In the wake of the somewhat surprising success of Sonic the Hedgehog at the box office, a new poll reveals the other video game stories people are eager to see on the big screen.
The Hollywood Reporter and Morning Consult asked 2,200 adults the following question: "Thinking about the following video game franchises, how interested would you be in a live-action movie made about each?" A long list of titles old and new followed, everything from Pong to Fortnite to Final Fantasy.
The winning franchise, by a large margin, was Super Mario Bros. Forty-four percent of respondents were either very or somewhat interested in a non-animated Mario movie. The second-place finisher was Pac-Man, with 37 percent interested in such an adaptation.
Mario Kart, Donkey Kong, and Grand Theft Auto rounded out the top five, meaning that Nintendo titles held three of the top spots. This is good news for the company, which is betting big that its intellectual property will translate outside the video game universe with Super Nintendo World and an animated Mario movie.
Mario has already been adapted in a live-action feature film, of course, but 1993's Super Mario Bros. is widely seen as a failure because, well, it was. It's a bizarre story that has little to do with its source material. Despite the best efforts of John Leguizamo as Luigi and Dennis Hopper, incredibly, as King Koopa, the film flopped and was the last live-action project Nintendo ever tackled.
That experience probably makes another live-action Mario movie unlikely, but that doesn't mean that lots of people don't want to see one, as this poll demonstrates.