Polar Vortex Is Really Happening This Weekend
The only good news? It might make it easier to stay home this weekend?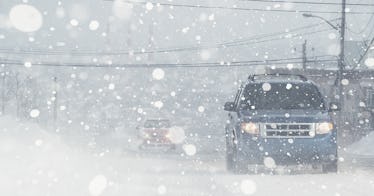 WTF May!??
It's been spring for nearly two months, but the polar vortex doesn't give a damn about the calendar. Millions of Americans are going to experience unseasonably cold temperatures, strong winds, and even snow this weekend. Sorry, moms.
Here's what you need to know about this weekend's unwelcome conditions.
Where will the polar vortex be felt?
New England, Appalachia, the Mid-Atlantic, Ohio Valley, and parts of the Midwest will experience the effects of this weekend's winter storm.
In other words, pretty much the entire eastern half of the country will have more wintry than usual weather this weekend.
What kind of weather is expected?
That depends on where you live. Frigid temperatures, with temperatures 10-20 degrees below average, will be felt across the regions affected by the storm.
Additionally, the Eastern seaboard will experience strong gusts of wind, up to 40 miles per hour. Northern New England could collect a foot of wet, heavy snow, with flurries possible as far south as North Carolina.
Is this going to set some kind of record?
No, it's going to set a lot of records.
Record low temperatures are possible in more than 50 cities, everywhere from Buffalo to Memphis to Shreveport to Pittsburgh. New York City hasn't had May temperatures in the 30s since 1978, but they're almost certainly coming this weekend.
And it's not just temperatures. New May snowfall records across New England, western New York, and eastern Pennsylvania are also possible if not downright likely.
Why is this happening?
A piece of the polar vortex broke off and descended south from its anchor on Hudson Bay, bringing the wintry weather normally reserved for Canadians down to the lower 48. Climate change, unsurprisingly, is a likely culprit, as studies suggest that it exacerbates this so-called "jet weirding" phenomenon.
What's happening out west?
Instead of a winter throwback, the western United States will experience a look ahead to summer, with record high temperatures expected to run about 15 degrees above average.
Can 2020 get any worse?
Probably!
This article was originally published on