A Sealed First Edition Box Set Just Smashed the Record Auction Price for Pokémon Cards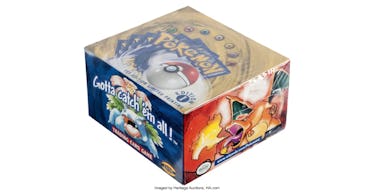 Heritage Auctions
A 21-year-old set of Pokémon cards just sold for a record price at auction, news that should have you scurrying up to the attic or down to the basement to see if your middle school card-collecting habit might pay off big.
Of course, you probably don't have a first edition sealed box set of all 36 booster packs — 396 cards in total. Printed in 1999, the cards are in pristine condition, which explains why they just sold for $198,000. That's a whopping $120,000 more than the previous record for the same set, which sold in February of 2019.
"Sets like this one, especially in such extraordinary condition and sealed in shrinkwrap, have become undeniable rarities," said Jesus Garcia, Assistant Comics & Comic Art Operations Supervisor at Heritage Auctions, the auction house where both records were set. "To see this result, more than doubling the previous mark, just shows the popularity and demand for these cards show no sign of slowing down."
The Pokémon First Edition Base Set Booster Box was the first set ever made. It was printed by Wizards of the Coast, the same company that produces Magic the Gathering. The Pokémon Company took over production of the cards in 2003.
The dramatic increase in the sale price for this pristine, rare collection could bode well for the less pristine, less rare cards lots of millennials have stashed away, remnants of the initial Pokémon craze here in the United States.
You could also give those cards to your kids, but would generation Detective Pikachu even know what to do with a mint holographic Charizard? Doubtful. You'd be better off putting the proceeds for your cards into their college fund.
This article was originally published on