This 13-Year-Old Soccer Prodigy Scored a Sponsorship Deal with Nike
How she's making history for female athletes.
by Amanda Tarlton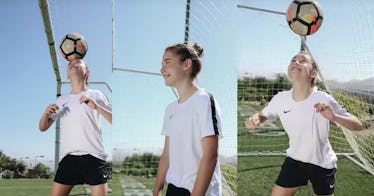 Nike/YouTube
Olivia Moultrie isn't like most 13-year-olds. The teen soccer star has officially gone pro after signing a multiyear, six-figure sponsorship deal with Nike on Monday.
It's something that Olivia, who was the first girl to ever play on a boy's soccer team at the U.S. Soccer Development Academy, has been working towards for years. (Her parents even installed a $60,000 artificial turf field in their backyard in California just for Olivia to practice.)
Currently homeschooled so that she can focus on her future as a pro athlete, Olivia has played with the U.S. national youth team and trained with European clubs like Olympique Lyon, Paris Saint-Germain and Bayern Munich overseas.
The young prodigy also made history when she received a scholarship to play for the University of North Carolina when she was just 11 years old, becoming the youngest female to accept that type of offer.
That scholarship is something Olivia will pass up now as part of her new deal. However, that's likely worth it given that the Nike sponsorship is worth more than a four-year scholarship, according to Olivia's agent.
"It's just a shift in women's sports," Spencer Wadsworth told The New York Times. "You see it more and more now where women's soccer is catching up to the men's side, and there's more opportunities for them."
In addition to her Nike deal, Olivia also starred in the brand's new "Dream Crazier" ad that premiered during the Oscars on Sunday. And on top of all that, she signed with sports talent agency Wasserman Media Group.
What's next for the young soccer savant? She and her family will be moving to Portland, where Olivia will join the Thorns FC Academy program, part of the National Women's Soccer League's system.
As for Olivia's decision to go pro instead of going to college, dad K.C. Moultrie told The New York Times, "There's no blueprint when you want to be better than anyone's ever been."
This article was originally published on