Plane Turns Around Because a Mom Left Her Baby Behind
She forgot something pretty important.
by Amanda Tarlton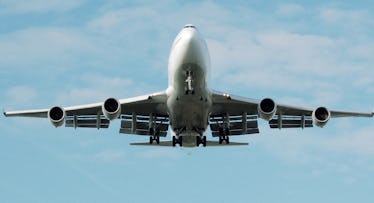 Pixabay
A passenger plane was forced to turn around mid-flight when a mom onboard realized she had forgotten her baby at the airport.
Shortly after take-off, the woman informed the cabin crew on Saudia Airlines Flight SV832 from Jeddah in Saudi Arabia to Kuala Lumpur in Malaysia of the issue, demanding they return to King Abdul Aziz International Airport where her daughter was still at the terminal.
An audio recording of the exchange between the pilot and the air traffic control was released, going viral on YouTube. In the clip, which Yahoo! Lifestyle translated into English, the pilot is heard saying, "May God be with us. Can we come back or what? A passenger left her baby in the terminal and refuses to continue the flight."
The bewildered air traffic control staff allowed the plane to return to the airport, saying on the recording, "OK, head back to the gate. This is a totally new one for us."
People have taken to social media to react to the bizarre event. In the comments section of the video, which now has nearly two million views, many praise the pilot for his decision to turn the plane around while others question how the mom forgot her baby in the first place.
But one Twitter user, Fahad M. AlBarrak, defended the mother, tweeting, "Just to clarify and not to blame the mom unitarily, the baby was with her sister and they were in two different buses, her sister and the baby went by mistake to Jakarta flight and then she returned to the terminal."
This article was originally published on