The Picture of Hope from the Coup Attempt That All Daughters Should See
We should all be thankful for the courageous Senate aides who saved the electoral ballots from likely impending destruction during the coup attempt.
by Isabella Bridie DeLeo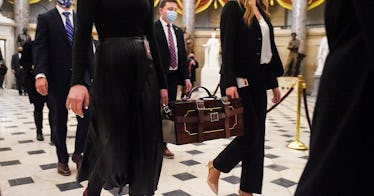 Getty
Parents might be struggling to figure out how to talk to their kids about the attempted coup yesterday. While the conversation has to be had, it won't all be negative — just look at these Senate aides who potentially saved democracy yesterday.
In the midst of yesterday's violent, far-right coup attempt meant to disrupt the democratic electoral process, at least one image emerged that offered up a glimmer of hope: the female Senate aides who saved the historic ballot boxes from almost inevitable destruction. As the mob breached the Capitol, several quick-thinking aides grabbed the boxes and brought them to a safe location, potentially saving the boxes — and most crucially the Electoral College ballots inside — from being destroyed, which could have further delayed the certification of the Electoral College votes. Thankfully, late last night, Congress certified President-Elect Joe Biden's victory. We have two heroic women to thank, as well as a whole throng of brave Senate aides, for their crucial part in keeping the electoral ballots safe.
The resonant image of the aides carrying ballot boxes has gone viral on social media, with two female aids at the helm. One post, shared and captioned by author Glennon Doyle, states, "Here are the women — Senate aides — who had the presence of mind and courage to protect, keep safe, and transport the electoral votes before fleeing the Senate — which was under siege by domestic terrorists." Doyle adds, "There will always be villains. There will always be heroes."
Senator Jeff Merkley, serving Oregon, also shined a light on the saving of the ballot boxes. Merkley writes, "Electoral college ballots rescued from the Senate floor. If our capable floor staff hadn't grabbed them, they would have been burned by the mob."
One Twitter user, Mimi Vance, shared how much she "admired" the photo, writing, "I love this picture. Bright, thoughtful young women serving as Senate aides, probably not much older than myself, carrying the electoral votes off of the Senate floor while it was under siege. I admire them and their courage, and hope to join them in the Senate one day."
We should all be thankful for these incredible aides. Their brave efforts to keep the ballots safe helped ensure that the electoral vote certification process could be completed.