Pfizer Vaccine Safely Provides "Robust" Immune Response in Kids 5-11
Emergency use authorization for young children could mean kids start getting vaccinated by Halloween.
by Ethan Freedman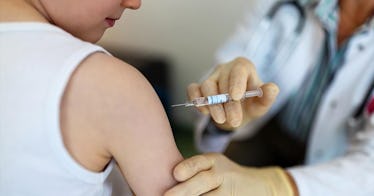 Parents, get your Band-Aids ready: your young kids under 12 could be getting a COVID-19 vaccine within the next couple of months.
Pfizer and BioNTech announced that their COVID-19 vaccine is safe, and produces a "robust" immune response in kids aged five to 11 years old, via a press release.
The companies say that they will now submit their data to the FDA for emergency approval for this age group. If approved, it would be the first authorization of any COVID-19 vaccination for younger kids in the United States.
The companies studied the two-dose vaccine in a group of 2,268 kids via a combined Phase 2/3 trial. After a Phase 1 trial testing for initial safety and reaction, Phase 2 trials test for immune response, and Phase 3 trials test for effectiveness against a placebo and further safety.
Although this trial wasn't large enough to calculate efficacy since kids often do not get very sick, the trial did report an antibody response similar to one deemed effective in people aged 16-25 years old, The New York Times reports. The Times also notes that the companies have not yet released their data from this trial, nor have the results yet been peer-reviewed.
The companies report that this immune response was generated with just 1/3 of the dose given to older kids and adults. In addition, they report that younger kids had similar side effects to older kids and young adults and that the vaccine was "well-tolerated." The Pfizer-BioNTech vaccine has currently been fully approved by the FDA for anyone 16 and older, and given an emergency use authorization for anyone aged 12-15.
If the FDA provides an emergency use authorization for kids aged five and older, the United States would join countries like Chile, Cuba, and China in being one of the first to vaccinate younger kids. Specifically, The New York Times notes that these kids could begin receiving vaccinations by the end of October if the approval proceeds quickly. Pfizer and BioNTech will also soon apply for approval with both European and British medical agencies, reports the Associated Press.
This news comes as children, still a largely unvaccinated sector of the American population, make up a growing percentage of coronavirus cases nationwide. In addition, it comes amid concerns of infection and spread among unvaccinated children and adults as many schools open for the fall.
Further news regarding a pediatric coronavirus vaccine may arrive in the coming months. Pfizer and BioNTech are still gathering data for kids aged six months to five years old, and Moderna is also studying its vaccine in kids as young as six months, AP reports.
Currently, the CDC says the approved vaccines against COVID-19 are safe and effective – and encourages everyone over the age of 12 to get vaccinated.