Peacock Subscription Tiers Explained: What's Free and What's Not
by Isabella Bridie DeLeo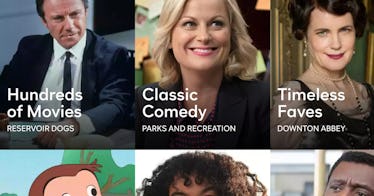 peacocktv.com
Do you really need another streaming subscription? Peacock is hoping the answer is yes, mostly because this new streaming service has a bunch of stuff for free.
Peacock, NBCUniversal's new and much-hyped up streaming service, is live as of July 15. But what do you get if you don't want to pay?
The basic answer is this: The free version of Peacock is like getting a streaming version of a massive NBC Channel. This means you can watch shows like Parks and Recreation, Battlestar Galactica, a ton of Blumhouse movies, and a whole lot more. There's not a ton of original programming, yet, but they do have a new version of Brave New World, which yes, an adaptation of the Aldous Huxley novel of the same name that you had to read in high school (and everyone gets confused with 1984.) Here's the only catch: The free version of Peacock has a bunch of ads. Right now, that's pretty much what it is — a (free-ish) streaming platform with a bunch of cool stuff, but several commercials.
Yes, The streaming market is already saturated for sure, but at least with Peacock, the free subscribers don't necessarily miss out on any of the content, they just have to deal with ads.
In a press release, Matt Strauss, the Chairman of Peacock, said it like this: "From current, classic and original movies and shows, to live news, sports, curated channels and trending content from around the world, Peacock is the only free, premium ad-supported streaming service that brings together everything consumers love about television and streaming—all in one place."
"Free" is a big part of what might make Peacock competitive as it attempts to pull viewers away from already established streaming giants like Netflix, Hulu, Amazon Prime, Disney+, Apple TV, and newcomer "quick bites" Quibi. However, its launch doesn't come at an ideal time, since, y'know, the pandemic. As CNET reports, Peacock had to halt production on some of its original movies and series for public health reasons.
Subscribers will also get next-day access to current, in-season NBC shows such as Law & Order: SVU and Zoey's Extraordinary Playlist. As of tomorrow's launch, the streaming platform will have nine originals, in addition to a collection of movies like The Matrix and The Godfather and shows like 30 Rock and Parks and Recreation. It will feature "timely news, sports, and pop culture highlights" and live news from NBC News, Meet The Press, NBC Sports, and "exclusive curated channels featuring the best moments" from talks shows like The Tonight Show Starring Jimmy Fallon and comedy from Saturday Night Live and The Office.
In addition to the free subscription, Peacock will offer a $4.99/month premium tier, and an ad-free version of the premium tier for $9.99/month. It's not really clear why you'd pay for this right now, but after a little while, if Peacock became something you depended on, maybe it would make sense to pony-up. For most of us, Peacock feels like a strange distraction, but perhaps not essential. Yet.
This article was originally published on