Take That Foot Locker! Payless Shoes Is Back From the Dead
A new executive team is planning a comeback with both ecommerce and physical stores.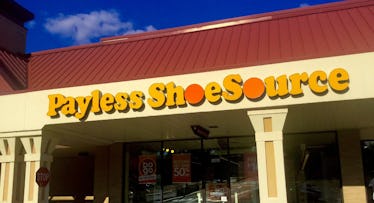 Flickr/jeepersmedia
Less than a year after filing for Chapter 11 bankruptcy protection and closing 2,000 stores, Payless ShoeSource is on the comeback trail. Like Toys 'R Us before it, the venerable chain has a new leadership team with a plan for profitability.
"We will implement a new comprehensive strategic plan to strengthen our relationship with our vendors and suppliers, support our global franchise partners and deepen the trust of our customers," Jared Margolis, the company's new CEO, said in a statement.
The details of this plan aren't clear, but the company has publicly committed to selling footwear "for the entire family, at a value price-point," which sounds pretty similar to what it was doing pre-bankruptcy.
There are currently 710 Payless stores in over thirty countries across Latin America, Southeast Asia, and the Middle East, all of which were unaffected by its American troubles.
The Topeka, Kansas-based company is planning on reinvigorating its Latin American presence—its largest business unit—while relaunching the brand in the United States with both stores and ecommerce. Currently, the company's American website is just a collection of links to Amazon listings for shoes from brands like Airwalk and Champion.
For parents on a budget, this is definitely good news. No one likes spending a lot of cash on kids' shoes, as it's all too common that they grow out of them before wearing them out.
It's worth mentioning that the company previously filed for Chapter 11 in April 2017, lasting less than two years before having to do so again. Here's hoping they've figured it out this time around.
This article was originally published on