Paul Walker's Daughter Shared a Never Before Seen Video of Her Dad
It's 16 seconds of pure father-daughter joy.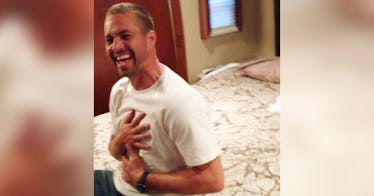 Paul Walker died less than a month after the 15th birthday of his only child. Last night the now-21-year-old Meadow Rain Walker shared a never-before-seen video of her dad to Instagram that's unbelievably happy in its content yet unbelievably sad in its context.
The 16-second clip shows the actor opening the door to his trailer to find his daughter standing there to surprise him. You hear Meadow's voice yelp "Hi!" and see his startled face crack a smile as he backs up and collapses onto the bed with shouts "Happy birthday!" all around him.
"You just scared the hell out of me!" he says, clutching his chest before reaching out, grabbing her in a big hug, and laying back on the bed, yelling "No way!"
It's the kind of moment that's not special in that parents and kids share them all the time but very special in that both parents and kids treasure those moments for the rest of their lives. When you end up having less time together than you thought you would, they become exponentially more special.
Meadow, whose godfather is Walker's Fast comrade Vin Diesel, has occasionally shared photos she took with her dad as a kid on Instagram, including a post announcing the formation of the Paul Walker Foundation in 2015. There's something different about this video, however, showing as it does a completely disarmed Walker in a moment that, as Meadow's caption says, was never meant for public consumption.
The video is on track to surpass a million views in its first 24 hours online, suggesting that folks are eager for a positive distraction, even one that lasts a mere 16 seconds.
This article was originally published on