Paul Rudd Dressed as "Weird Al" for Halloween, Leaving His Daughter as The Wasp Without an Ant-Man
'Weird Al and The Wasp' is a movie we'd definitely watch.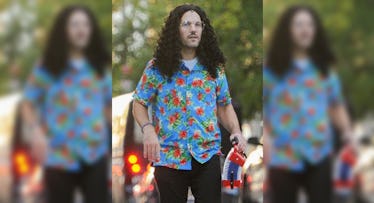 A picture of ageless wonder and future Ghostbuster Paul Rudd trick-or-treating with his daughter Darby last year is making the rounds on Twitter because, honestly, it might be the perfect father-daughter Halloween moment.
There's the standard cuteness of a dad willing to dress up and be silly with his kids, but it's the costume choices that make this moment great. Darby opted to dress up as The Wasp, one of the titular characters from Ant-Man and the Wasp, the other of which was played by her dad. She even has an Avengers candy bag to stay on brand, unlike her dad.
You'd think Rudd would zig and throw on an Ant-Man costume, but instead he zags and dresses as "Weird Al" Yankovic: wig of flowing dark curls, signature Hawaiian shirt, and a toy accordion.
Garrett Gilchrist, a filmmaker himself, tweeted out the picture, which quickly went viral, because there's something hilarious about Rudd simultaneously being a great dad and not doing to obvious move of dressing up as the counterpart to the character his daughter is dressed as that he freaking played in the actual movie.
We're not sure what Rudd and Darby chose to dress up as this year—they certainly have no shortage of R-rated inspiration—but it would be hard to beat this combination, the UHF-MCU crossover we didn't know we needed.
This article was originally published on