Paul McCartney Reportedly Sang to Jimmy Buffet Before The End
The former Beatle had nothing but love for the Margritville genius.
by Harlan Sharpe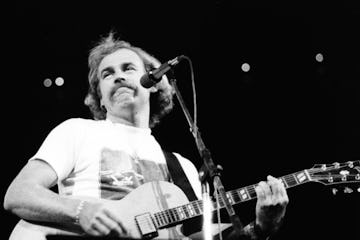 Chris Walter/WireImage/Getty Images
As the world mourns the passing of Jimmy Buffett, one tribute feels particularly bittersweet. Buffet was 76 when he succumbed to skin cancer on September 2, 2023. Shortly after his passing, the legendary Paul McCartney posted a heartfelt tribute to the Margaritaville legend, saying: "I've known Jimmy for some time and found him to be one of the kindest and most generous people."
McCartney also fondly recalled the time that Buffett had a guitar re-strung for McCartney, and then, gifted Sir Pual a left-handed guitar, specially made for him. "It's a beautiful instrument, and every time I play it now it'll remind me of what a great man Jimmy was."
But, on top of all that, as the world mourns, and we try to figure out which Jimmy Buffett album really was the best one, there's one more sweet detail about Sir Paul and Mr. Magarita. According to the New York Post: "Paul McCartney reportedly visited the Grammy nominee at his home within the last week to sing to him."
To be clear, this has not been confirmed by Sir Paul, or reps for Jimmy Buffett's family. But, don't you just want this to be true? What song could Paul have sung to Jimmy before the end? If this did happen, it's perhaps too much sweetness to truly comprehend.
McCartney also noted that he had also heard some of Buffett's new songs, including a new track called "Bubbles Up." Bootlegs of this song have already hit the internet, but an official, posthumous release is certainly on the way.