Pandemic Aid Kept Millions of Kids, Families Out of Poverty, Per Census Data
While official poverty rates shot up last year, the Supplemental Poverty Measure, which includes government assistance, hit its lowest level ever recorded, thanks to unprecedented government spending.
by Ethan Freedman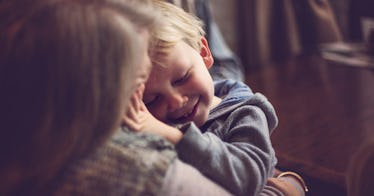 In 2020, pandemic-inspired economic downturn battered many families across the country. Shut down child-care centers, closed schools, entire industries driving off a cliff all led to families struggling to make ends meet as a virus raged around the country.
But a new crop of data from the US Census Bureau shows that the government spending programs started last year significantly lessened the economic impact of COVID-19 — and even cut into some existing measures of poverty.
The Bad News: Families Did Struggle, Across the Board
Let's start with the bad: last year was tough on many families' bank accounts. Median household income dropped by 2.9% from 2019 to 2020 — which the Census Bureau notes is the first statistically significant drop since 2011.
In addition, 13.7 million fewer people worked full-time last year than the year before. As might be expected, these changes hit the bottom 40% of earners the hardest, with a significant reduction in the percentage of national income earned by this group. Many people lost their jobs outright and others had to quit working in order to take care of children or their elderly parents. This has an outsized effect on working-class people.
All in all, the bureau says, the official poverty rate increased by one percentage point to 11.4% — and 3.3 million more people were living in poverty. But here's where the data gets interesting: while the official poverty level rose, another measure of poverty known as the Supplemental Poverty Measure (SPM) actually dropped to the lowest level in its twelve-year history.
Caveat: The Supplemental Poverty Level Dropped — How?
The official and SPM poverty levels are calculated differently in a few ways, including sources of income and assistance, which may help explain the disparity between the two measures last year. The official poverty calculation only includes pre-tax cash income.
But the supplemental level adds in things like stimulus payments and the Supplemental Nutrition Assistance Program (SNAP), while taking out things like taxes and medical expenses. Normally, SPM ends up being a little higher than the official poverty level. But last year, the Census Bureau notes, because Congress passed both stimulus payments and SNAP expansions, SPM was lower than the official poverty rate for the first time.
The Good News: Government Spending Stemmed Massive Suffering
And that's where the good news comes in. Despite new economic hardships, government spending like the stimulus payments kept millions of people out of poverty.
Assuming all other spending remained the same, the first two stimulus payments alone brought almost 11.7 million people over the SPM poverty line last year.
Unemployment insurance did the same for 5.5 million people, and SNAP for over 2.8 million people. Social Security remained the largest anti-poverty initiative in the country, bringing 26.5 million people — mostly seniors — over the line.
Some of the differences between these numbers in 2020 and 2019 are interesting. For one, there were no stimulus payments in 2019. But in 2019, unemployment insurance also only brought about 500 thousand people over the poverty line. As the Economic Policy Institute points out, this means that unemployment insurance lifted ten times as many people out of poverty in 2020 than in 2019. SNAP affected about the same number of people in 2020 as in 2019.
Those changes added up — overall, over 8 million fewer people were living below the SPM poverty line in 2020 than in 2019. And for some groups, there was an exceptionally large effect. While 27.7% of people without a high school degree were below the SPM line in 2019, that number dropped to 20.3% in 2020. The stimulus payments alone also dropped poverty rates in Black and Hispanic children by 6.8% each.
Caveat: Unfortunately, Inequality In Pandemic Aid Persisted
But while many indicators improved because of these programs, other measures of economic hardship remain frustratingly high. Black and Hispanic levels of poverty remain higher than white levels of poverty in both official and SPM measurements.
Many people, including children, also remain without health insurance. Between 2018 and 2020, kids from families making 400% or more of the poverty level became more covered, with the uninsured rate dropping from 2.6% to 2.2%.
But in that same time, the percentage of kids without health insurance from families living below the poverty level jumped from 7.8% to 9.3%. This is the fourth year in a row that the number of uninsured kids has jumped overall.
Other groups have even further disparities — over 20% of non-citizen children lacked health insurance in 2020. And countrywide, medical expenses pushed over 5 million people into poverty, though that number was lower than in 2019 when 7.4 million people hit poverty due to medical expenses.
These data come out as some anti-poverty measures deployed during the pandemic face an uncertain future. For one, COVID-era federal unemployment benefits have ended, reports The New York Times, noting that millions of people will now lose some level of aid. As have eviction moratoriums.
But other benefits may remain: some Congressional Democrats are looking to extend the expanded Child Tax Credit as part of the upcoming budget reconciliation bill, according to Insider, as well as pass paid family and medical leave, invest in child care, and pre-k for parents, and more.
The child tax credit measure first passed in 2021, so data on the child tax credit's impact wasn't included in the new 2020 census data — but one analysis found that continuing the program through 2025 could nearly halve child poverty in most states, and research has shown the tax credit has already massively slashed hunger and financial insecurity for families.