The Stimulus Plan Might Lose COVID Paid Sick Leave — Here's Why
Sick leave saved lives and businesses last year, but it almost certainly won't pass this time around. Here's why.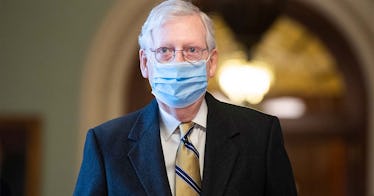 Getty
Here's the bad news: Paid sick leave might not actually be something American workers get from the COVID-19 stimulus package after all.
The good news about the $1,400 stimulus checks and the stimulus package? Democrats, while still gesturing towards bipartisanship, don't appear willing to negotiate Joe Biden's $1.9 stimulus plan into oblivion (like they did in the Obama administration).
But because Democrats aren't willing to abolish the filibuster, they are limited in what they can include in the law, and that means that the paid sick leave provision of the bill, which would have given over 100 million workers access to paid COVID-19 sick leave, may not be passable.
Three congressional aides involved in the negotiations told HuffPost that the paid leave provisions in Biden's proposal are not likely to make it into the final bill despite their proven effectiveness in slowing the spread of the novel coronavirus, helping working parents keep their jobs, and keeping small companies in business — and corporate support for the programs.
The initial $1.9 trillion proposal included federally mandated emergency paid leave to 106 million Americans and did away with rules that restricted which employers had to offer leave under the (now expired) rules of the Families First Coronavirus Response Act passed last March. If this paid sick leave did become law, it would mean that 106 million Americans would get 14 weeks of medical leave if needed due to COVID-19. Workers would be also eligible for a benefit of up to $1,400 per week. Now, that likely won't happen.
Here's what you need to know about why paid sick leave will likely be dropped from the plan, making it far less effective than it should be.
Why are Democrats considering dropping COVID-19 paid sick leave?
Why is paid leave so crucial during the pandemic?
What are the Democrats going to do instead?
Could the Democrats pass paid sick leave anyway?
So what's next for paid sick leave?
This article was originally published on