Outraged Democrats Bring Paid Leave Back From the Dead — But Will it Pass?
Less than a week after it was axed from the Build Back Better plan, paid family leave is possible again.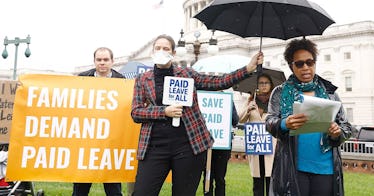 GETTY
As of last Thursday, it sure looked like paid family leave would not be included in Democrats' budget reconciliation bill.
Senator Joe Manchin was firmly against the plan's inclusion due to costs, and he could sink the entire package.
Today, Democrats unexpectedly reinserted a federal paid family leave guarantee back into the Build Back Better Act less than a week after it was excluded from the White House framework for the bill going forward.
Here's what parents (and parents-to-be) need to know about the latest developments in this exhausting saga… and if it means that paid family leave could, once again, be a possibility for working parents.
So Paid Family Leave Is Back in the Bill. What Does That Mean?
"As we are reviewing priorities and at the urging of many Members of the Caucus, I have asked the Ways and Means Committee for its legislation for Paid Family and Medical Leave to be included in this morning's [House Rules Committee] hearing," House Speaker Nancy Pelosi wrote in a letter to her caucus sent this morning.
Translated from Congressional jargon, that means that Democratic members of the House pressured their leadership to re-insert the policy into the Build Back Better Act, a major departure from the most recent framework for the bill released by the White House last week.
The specifics of the policy, which is coming from the House Ways and Means Committee, aren't as generous as initial plan outlines had suggested the paid leave program would be. The paid leave plan that's now been put back in the Build Back Better Plan includes just four weeks of paid family and medical leave. That is far less time than parents in other countries get, but given the fact that the United States is one of the few wealthy countries in the world without any paid federal leave program, even having just four weeks of federally guaranteed paid leave would represent a massive win.
Why Are Democrats Trying to Pass Paid Family Leave Now?
More than 20 lawmakers from the House and the Senate attended an all-day event in front of the Capitol yesterday, urging Democratic leadership to reinsert the benefit into the Build Back Better legislation. Perhaps than any other omission, the lack of paid leave in Biden's framework outraged Democrats, possibly because so many of them—including Biden!—campaigned on the issue.
Plus, yesterday was also Election Day, and the results were not encouraging for the Democratic Party nationwide in advance of the 2022 midterms. Perhaps, given the massive support for paid family leave among Democrats, independents, and even Republicans, it's possible that politicians (many of whom were clearly already eager to put paid leave back in the policy) have seen the writing on the wall and feel the importance of delivering a social spending package that actually materially changes the lives of working families — and earns their vote.
The more party leaders try to pass policies supported by more than three-quarters of the public, the better the outcomes for American families will be. (And, most likely, the better their chances for re-election will be.)
So Is Paid Leave Actually Going to Happen?
Pelosi tactfully included the reason why earlier in her letter when she wrote that she had been informed "by a Senator," almost certainly Manchin, "of opposition to a few of the priorities contained in our bill."
Pelosi also reiterated that she would not force a vote in the House on any bill that could not pass the Senate, so Manchin's opposition could still keep paid family and medical leave from becoming law.
That means that this latest development is far from the end of this particular saga, as Democrats still need to convince, cajole, or otherwise motivate Manchin to vote yes on his party's signature legislation even if it includes paid leave, which Manchin has expressed reservations about.
So while paid leave is far from a certainty, it's also much more likely now than it was yesterday. So at least for now, for working parents, today's news represents as big of a win that they could reasonably expect.