'Operation Santa' Is Going Online This Year — Here's How To Take Part
The famous USPS operation helps pair people up with needy families to make Christmas wishes come true.
by Isabella Bridie DeLeo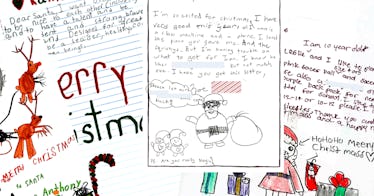 USPSOperationSanta.com
The USPS's "Operation Santa" is going fully online this year for the first time. That's actually not a bad thing. This means that Santa and families across the country can send toys to children and families in need this holiday season in keeping with COVID-19 safety guidelines. "Operation Santa" is a 108-year-old initiative from the U.S. Postal Service wherein kids and families can send their holiday wish lists to Santa and people can anonymously fulfill those wishes.
Why "Operation Santa"?
According to a USPS press release, the initiative began over 100 years ago as a "program to help those in need at the holidays experience the joy of opening presents — and to create special holiday memories." Kids in need mail "Santa" and volunteers across the country fulfill their wishes to make their day special.
In 2019 alone, "Operation Santa" delivered 11,000 gift packages, making thousands of kids' holidays a bit brighter, per CNN. And even though this is the first time that "Operation Santa" will be completely digital, USPS began incorporating a digital element in some cities in 2017, eventually expanding to a total of 17 cities in 2019, which most likely helped make the transition to fully online in 2020 a bit easier, COVID be damned.
How Does It Work?
Letters are available to read and wish lists can be thusly granted, online throughout the month of December at USPSOperationSanta.com. The letters are wonderful, living monuments to the inner lives of American kids.
What Is The Timeline of "Operation Santa"?
The USPS accepts letters from now until Dec. 15. Families and kids can send letters with a return address to Santa's workshop address — Santa Claus, 123 Elf Road, North Pole 88888. Letters will be available to view, and wish lists can be granted, online starting on Dec. 4. You can sign up online to help make the special day of kids everywhere.
It's always a good time to help out families in need, but it's an especially important time to care for one another this holiday season, as COVID-19 continues to surge across the country and millions of Americans remain unemployed, food insecure, and teetering on eviction. Programs like "Operation Santa" are a good way to spread some joy this holiday.