Okay, So What Is Lego Super Mario, Exactly?
It's a toy. It's a game. It's both.
by Joel Cunningham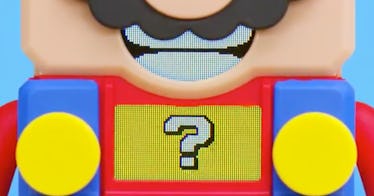 Nintendo and Lego are teaming up to bring Super Mario-themed brick kits to a toy store near you—but these are like no Lego sets you've seen before. Let's investigate.
Earlier this week, the official @LEGO_Group Twitter account tweeted out a cryptic GIF featuring a digitized rendering of a Mario-esque mini-figure with a rotating question block in his chest, accompanied by an all-too-familiar greeting: "It's a me, Lego Mario!" (Sorry, "LEGO Mario.")
The enigmatic tease set off a round of wild internet speculation, with some presuming we'd be getting toys and others betting on a new video game in the style of Lego Star Wars.
The answer turns out to be a little of both. In a press release earlier today, Lego and Nintendo revealed plans for an new type of toy: a "physical play experience that brings Super Mario to life" in Lego bricks.
Functionally, that looks like a custom Super Mario Lego set loaded with pixel-accurate bricks that recreate the look and feel of a level from a classic Mario game.
The not-so-minifigures, including a smiling Mario with an LED screen in his chest, can interact with the Lego environment, which is also peppered with electronic elements. Bash your Mario into a question block and his chest reveals how many coins you've collected. Stomp a Koopa-Troopa and collect more coins. Reach the flag at the end of the level and boost your score.
"I have always liked Lego products and how they help children use their imagination to play," said Nintendo executive Takashi Tezuka. "The new product we created together with the Lego Group seeks to combine two different styles of play—one where you freely build the world of Mario and the other where you play with Mario in the very world that you have created."
In case you've having trouble visualizing how this will actually work, Nintendo and Lego have released a helpful video:
I'm of two minds about this new partnership. While the sets look exactly right and the interactive elements are awesome, a part of me is a little disappointed we're not getting Mario-themed traditional Lego sets.
Like many parents, I'd wager, my favorite thing about Lego is the experience of the build; it's a great activity to share with my kid. These sets look to be rather simplistic in that regard, stressing technological innovation over the high brick count grandeur of, say, Lego Hogwarts.
That said, what the combined power of two of the best kids' entertainment brands has produced is undeniably impressive. I can't imagine a more appropriate translation of Mario into the physical world. Whether or not these sets make it on my kids' wish lists, I also have a birthday coming up.
Lego Super Mario is planned to launch later this year.
This article was originally published on