Oh Sh*t, the 'Charlie and the Chocolate Factory' Reboot Will Be Really Good
Just when you thought you were done with remakes...
by Joel Cunningham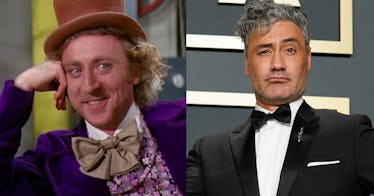 Paramount Pictures / Getty
Oompa-Loompa-doopity holy shit, Taika Waititi is writing and directing not one but two animated reboots of Roald Dahl's beloved novel Charlie and the Chocolate Factory for Netflix.
According to the Hollywood Reporter; Netflix — which signed an overarching deal with the Dahl's estate in 2018 — has given the director behind Thor: Ragnarok and JoJo Rabbit a golden ticket to create a pair of animated series stemming from the 1964 children's book about greedy, candy-crazed kids being tortured by the mad proprietor of a bizarre sweets factory (if I recall the plot correctly).
One of the series will be directly drawn from "the world and characters" of Dahl's novel, while the other will delve into the world of the Oompa-Loompas, the diminutive denizens of Willy Wonka's chocolate factory who were always ready with a song when one of the children on a factory tour met a grisly fate.
My trepidation at yet another adaptation of the book—following the trippy 1971 Gene Wilder film (literally produced to sell candy bars!), the garish and creepy 2005 Tim Burton/Johnny Depp take, and a poorly reviewed 2016 Broadway musical—is overmatched by my enthusiasm for Netflix's choice of director. If anyone can put the fractured worldview of Roald Dahl to film, it's Waititi, whose Oscar-winning Jojo Rabbit deftly managed a tricky mix of humor and danger in a story dropping kids into a seriously messed up situation.
Notably, Waititi is the first filmmaker from an Indigenous background to explore the Oompa-Loompas, whose depictions have ranged from problematic to deeply racist (in the long-since-revised original version of Dahl's book, they were described as African Pygmies; only later did they become more fantastical).
I can't wait to see what new flavors the New Zealand-born director brings to the classic novel when the series finally make it to the screen.
This article was originally published on