After Nobody Comes to His Party, Celebrities Help Cheer Up a Six-Year-Old Boy
The Phoenix Rising soccer team did confirm that Teddy accepted their game invite.
by Raz Robinson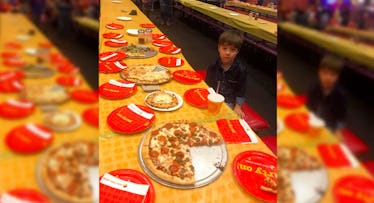 ABC15 Arizona Twitter
Support for a six-year-old Arizona boy named Teddy Mazzini is pouring in from every direction after viral photos surfaced of him sitting alone at a table when no one showed up to his birthday party last week. According to Teddy's mom, the boy invited all 32 of his classmates to the party. While some managed to call and announce that they weren't coming, everyone else simply didn't show up.
After the tweet went viral, The Phoenix Suns front office was quick to reach out to Teddy and invite him to their home game against the Los Angeles Lakers this week.
"How about we celebrate with thousands at our place!" The Suns tweet read. "Tickets to Wednesday's #SunsVSLakers game are all yours Teddy! Talk soon!"
Local soccer team, the Phoenix Rising also got wind of the photographs and asked him to come to celebrate his birthday with "7,000 of his closest friends," at one of their playoff matches this Friday. Hell, even music mogul DJ Khaled reached out to Teddy with an Instagram post and offered to get him a gift in the wake of the photos.
"Bless up and happy birthday to the Young King Teddy! The Khaled Family, @asahdkhaled and the We The Best foundation want to send you a birthday present!," Khaled wrote in the post's caption.
Still, while there was boatloads of support, there were more than a few naysayers who felt like the whole thing was a ploy for attention on behalf of Teddy's mom.
"What mother invites the entire class?" one Facebook commenter wrote after saying that that the party read "like a poor attempt get sympathy and or gift using social media."
Despite the huge wave of support most commenters simply found the situation too sad for words and were more worried about how the incident would make Teddy feel.
"Six years old and he will remember!" they wrote. "If he stays at that school, this incident will follow him throughout his years at the school. Kids don't forget."
This article was originally published on