The Warriors to Take Young Fans to Museum Not the White House
It's hard not to believe that this is what the Warriors wanted to do all along.
by Raz Robinson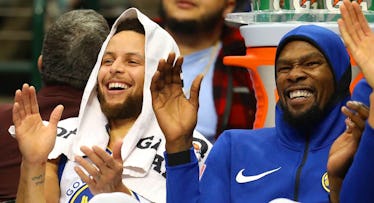 GETTY
Under normal circumstances, the NBA Champion Golden State Warriors would have visited the White House this Tuesday, but after Warriors point guard Steph Curry announced that he had no interest in a one-on-one with POTUS, President Trump uninvited the whole team. So, instead of going to the Oval Office, some of the NBA's biggest stars took young fans from Kevin Durant's hometown to the African American Museum in Washington D.C.
"In lieu of a visit to the White House, we have decided that we'll constructively use our trip to the nation's capital in February to celebrate equality, diversity, and inclusion — the values that we embrace as an organization," the Warriors said in a group statement.
It's hard to imagine that the Warriors would have had a pleasant visit with Trump anyway. Several members of the team, as well as coach Steve Kerr, have been publicly critical of the administration in the past. Kerr openly spoke ill of president Trump's allusion to Colin Kaepernick being a "son of a bitch" for protesting police brutality by kneeling during the national anthem. Kerr, whose father was killed by terrorists in Beirut, is commonly cited as a dream political candidate even though he has evinced little interest in running for anything.
The Warriors made the trip to the African American Museum with kids from Seat Pleasant, Maryland. Seat Pleasant isn't actually in the nation's capital, but small forward Kevin Durant is a local celebrity writ large so the decision to bus them in made a lot of sense. The kids in Seat Pleasent will surely be excited. Not only do they get to go with the Warriors on a trip to the museum, but Durant recently donated $10 million to put kids in the Seat Pleasant area through college.