New Study Reveals Most Popular Disney Song Ever. But What's Up With the Rest of the List?
by Catherine Santino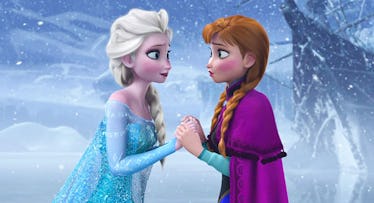 Walt Disney Pictures
Every parent can surely name the most popular Disney song in their household. Whether you love that song as much as your kid or you're hearing it in your nightmares, this much is true: When a child loves a song, they really love it. And as your parent, you will just have to accept that fact.
A new study has revealed the most popular Disney songs based on the number of Spotify plays — and if you've had a child in the past 10 years, you won't be surprised by the top dog. Frozen's "Let It Go" topped the list with 298 million plays. Obviously.
The rest of the list, published by PlayLikeMum.com, makes sense for the most part: 2016's Moana takes numbers two and three on the list, two being "How Far I'll Go" with 205 million plays and three being "You're Welcome, Moana" with 181 million plays. But number four? Entirely perplexing. With 153 million plays, "Life Is a Highway" from Pixar's Cars is the fourth most listened-to Disney song on Spotify. *Scratches head*
Cars was popular and all (the franchise got three movies), but it's not exactly considered a great musical contribution to the world of Disney. The song even ranked above Disney classics like "Beauty and the Beast" from the film of the same name, "A Whole New World" from Aladdin, and "Under the Sea" from The Little Mermaid.
Of course, this lists only ranking songs based on Spotify plays, so perhaps Cars just has a particularly passionate Spotify fan base.
Take a look at the top 10 for yourself, and find the rest of the 50-song list here.
Let It Go, Frozen — 298 million
How Far I'll Go, Moana — 205 million
You're Welcome, Moana — 181 million
Life Is a Highway, Cars — 153 million
Beauty and the Beast, Beauty and the Beast (2017) — 148 million
You'll Be in My Heart, Tarzan — 132 million
A Whole New World, Aladdin — 121 million
Try Everything, Zootopia — 119 million
Love Is an Open Door, Frozen — 113 million
Under the Sea, The Little Mermaid — 109 million
This article was originally published on