New Stimulus Could Extend Unemployment, Distribute Vaccine Money
Here's what you need to know about the plan.
by Isabella Bridie DeLeo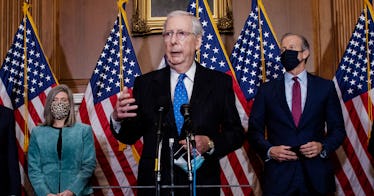 GETTY
On Tuesday, December 1, bipartisan lawmakers finally unveiled a slimmed-down COVID-19 stimulus package after a months-long impasse. American families are struggling with the devastating personal and economic impact of the pandemic, and as many stimulus programs have expired as a result of Senate inaction, that hurt is only going to become more intense. The $908 billion proposed package comes at a particularly crucial time, since many CARES Act programs, including eviction protections, a moratorium on federal student loans, and an extension for unemployment insurance are set to end this month, on Thursday, Dec. 31.
Some of the details are still developing, however, and the bill has neither been fully unveiled nor passed in any way. This means that the unveiling of this stimulus package is pretty much happening at the last possible moment. Even still, the future of the package is undecided. Time will tell what will actually happen with the package, especially since congressional Democrats and Republicans have disagreed on several aspects of the plan, and neither House Speaker Nancy Pelosi nor Senate Majority Leader Mitch McConnell has said whether they would vote for the package.
What's In The Stimulus Package?
The package is expected to include $180 billion to fund a $300 per week supplemental unemployment benefit that will last until March 2021. While that's a far cry from the additional $600 a week unemployment insurance that Senator Bernie Sanders pushed for in the first wave of COVID-19 funds, it's much better than nothing, and the bill has been "billed" (no pun intended) as a stopover between today and January 20, when Biden takes office.
There's also $288 billion in aid for small business akin to the Paycheck Protection Program loans, and $160 billion in local and state government relief, as per CNBC. Additionally, the plan includes $82 billion for education, $16 billion for vaccine distribution, testing and tracing — which will be vital in the coming months as COVID-19 vaccines are likely to begin rolling out — plus funds for childcare and rental assistance.
Will There Be A Stimulus Check?
It's not likely. Another stimulus check is not currently on the table. And, in fact, on the opposite-of-being-good-for-workers spectrum, many Republicans are advocating for temporary federal protection against COVID-19 related lawsuits — meaning that employees who contract the virus at work would not be able to file a lawsuit against their employers until states draft laws to protect employers themselves. Democrats had previously been advocating for a $600 per week supplemental employment benefit and have been opposed to federal lawsuit protections.
When Will Families See The Benefits Of This Plan?
To avoid a partial government shutdown, and to ensure that some aid is passed before Biden's inauguration, Congress will have to pass the plan, or some version of it, by Friday, Dec. 11, as per CNN.
How Will The Plan Help Families?
If the unemployment programs expire, 12 million Americans could lose benefits. As millions are already struggling financially, taking away unemployment programs by the end of the year could be devastating for American families.
This article was originally published on