New 'Lion King' Trailer Will Give '90s Kids All the Feels
We just can't wait to see the gourgeous, star-studded remake.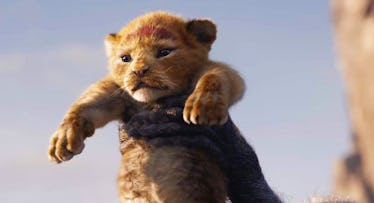 Walt Disney Pictures
Beyond tear-inducing speeches and an unexpected Wayne's World reunion, the best part of last night's Oscars might have happened during a commercial break. That's when a new trailer for Disney's remake of The Lion King dropped, ratcheting up the already sky-high anticipation for its release later this summer.
The new film has a lot going for it. It's based on a beloved, commercially successful classic. Its director, Jon Favreau, has already remade a Disney classic with commercial ($967 billion worldwide gross) and critical (95 percent Rotten Tomatoes score) success. Its cast is crazy talented and has expansive appeal, everyone from Donald Glover to Seth Rogen to John Oliver to freaking Beyoncé.
The new trailer doesn't have a ton of footage that we didn't see in the teaser, but it still tells us a lot about what we can expect from the new film: a close-to-the-original remake that takes advantage of advances in computer animation over the intervening 25 years.
The first shot of the new trailer shows a rapidly-rising son over a vast savanna. A rhinoceros, cheetah, and birds appear on the move, part of the gathering of animals at Pride Rock that forms the opening sequence of the original film. The rock even looks the same, a massive edifice with a long surface jutting majestically toward the assembled animals.
"It is time," we hear James Earl Jones say. He's the only cast member from the original film reprising his role in the remake, and hearing his distinct voice brings us back to 1994.
We see Rafiki spread powder on Young Simba's forehead and, in a long shot, the baboon holding the lion cub aloft as "Long Live the King" flashes across the screen, word by word.
The Lion King comes to theatres on July 19.