The Netflix Film About a Baby-Toting Dad Fighting Zombies is Apparently Good
A zombie flick with some non-fear based political and emotional heft! Who knew?
by Raz Robinson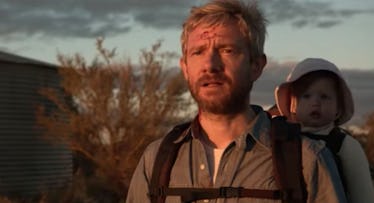 Youtube/Netflix
The film Cargo, which follows Andy, a dad played by Martin Freeman, on his journey across a zombie-filled post-apocalyptic hellscape to find a guardian for his infant daughter is starting to receive some hype. Screening ahead of its May release, the film has garnered some positive reviews despite a premise — Baby Bjorn plus carnage — that doesn't make it an automatic win.
Cargo is actually a remake of a 2013 short film with the same name and a pretty similar plot. The 2017 version follows Andy, who has 48-hours to find a suitable guardian for his daughter before he turns and eats her himself. Andy finds hope in the form of an aboriginal tribe, who can take the baby, but harbor a deep fear of those who may be infected. Andy befriends a young aboriginal girl who is his only connection to a community that can save his daughter, but who simultaneously has no interest in returning to her tribe.
Luke Buckmaster, a film critic for The Guardian, notes that Cargo is a "very strong, at times stirring achievement: a zombie film with soul and pathos." The website Film School Rejects says the movie is "self-assured in its brazen political undertones," which are largely racial, and that it "avoids the pit of cynicism," by "insisting that indifference should never be a last resort." Screen Daily points out that Freeman, who played Bilbo Baggins in the Lord of the Rings movies, comes across as a hyper-agreeable every man.
There seems to be a lot of reason to get excited about the film, which is essentially about how to do the thing parents spend decades doing, attempting to assure a happy future for their children, in two day's time. Heartstrings are going to get pulled when Netflix released the film in mid-May. The film will be the latest example of post-apocalyptic parenting horror, which is a very specific, but rapidly growing genre of films. Think of it as The Road, but without the nihilism.