Netflix 'Cuties' Controversy Explained
Here's what parents need to know.
by Isabella Bridie DeLeo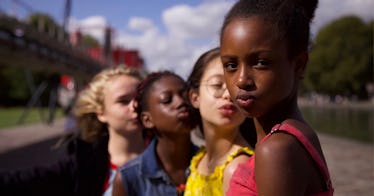 Netflix
By now, you may have heard of the new Netflix film, Cuties, and the controversy surrounding it. And if you've seen the trailer which has scandalized some concerned parents over Twitter, you can probably see why the film has created a controversy in the first place: it shows young girls (the characters are supposed to be 11 in the film) joining a dance competition and dancing proactively to try and become popular on social media. For some parents, seeing the trailer and wading into the controversy on social media became like a nightmare: parents try to do as much as they can to protect their kids, especially girls, from sexualized content online. But, for many people, the trailer sort of appeared to be glorifying the same thing it says it's criticizing. The film was released on September 9, but before it became streamable, tons of social media users have called to remove it from the platform altogether. And since it was made available, Netflix even saw a record number of subscriber cancellations, a whopping eight times higher than usual on Saturday, Sept. 12, as per Variety.
In a video interview for Netflix, French-Senegalese director Maïmouna Doucouré said that she was inspired to make the film after being a bit shocked when she came across a dance recital for young girls that seemed to sexualized them, and then began researching social media and the pressures on young girls today, the process of which has led to the film Mignonnes, or Cuties. She said, "I believe that cinema, and art in general, can change the world. We are able to see the oppression of women in other cultures. But my question is, Isn't the objectification of a woman's body that we often see in our Western culture not another kind of oppression?" Cuties seems to be taking up that question, and analyzing how the potentially hyper-sexualized environment of social media can sometimes be unsafe for kids.
What is Cuties?
Netflix describes the plot as such: "Eleven-Year-Old Amy starts to rebel against her conservative family's traditions when she becomes fascinated with a free-spirited dance crew." Indeed, the trailer centers on Amy (Fathia Youssouf) as she struggles with her family's expectations of her as she approaches her teenage years, and the joy she seems to get from finding a friend group that likes to dance, get attention online and shoplift.
Why is there a controversy?
The biggest reason for the controversy is the dissonance between the trailer, which does place a big focus on scenes of the girls learning how to dance somewhat provocatively, and the movie itself, which is criticizing the sexualization that people might see in the trailer. Cuties seems to be an example of a film maligned by its marketing.
What is the movie really about?
Ultimately, Cuties seems to be a commentary on how difficult it can be for kids to navigate growing up in the landscape of social media, particularly since apps like Instagram and TikTok can feel hyper-sexualized and can sometimes communicate unhealthy and confusing messages. However, the film probably isn't exploiting kids.
This article was originally published on