Nearly Half of Parents Admit They Weren't Financially Prepared to Have a Kid
by Catherine Santino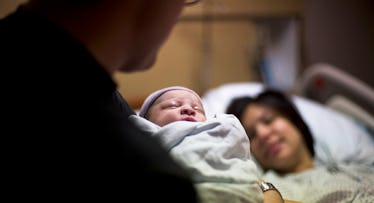 Try as you might, one can never be totally prepared for having children. There are always unforeseen expenses, and with the rapidly increasing cost of living, parenting can turn into a massive financial burden. Apparently, more of us are feeling it than you might think. According to a new survey from Policygenius, nearly half of parents admit they weren't financially ready to have a family.
In Policygenius' first annual Parents & Money: Financial wellness among American families white paper, the online insurance marketplace evaluates the financial wellness of parents of varying age, gender, and marital status. A whopping 42 percent of those surveyed said they didn't feel financially prepared before they had children. But even of the 58 percent who said they were, 23 percent said they lacked key financial plans, such as a college savings plan and private life insurance.
The survey also found that other key factors impact financial preparedness. Sixty-four percent of married parents felt financially ready for a child, while only 38 percent of single parents did. Men (64 percent) also reported feeling more financially prepared than women (53 percent).
Essentially, parents of all circumstances will have to rearrange their lives in order to financially plan for children, so the best plan of action is to start as early as possible. "The reality is, it's expensive to have a child, especially when you add that strain to the rest of your financial commitments," says Patrick Hanzel, a CFP® and advanced planning specialist at Policygenius tells Yahoo News."Every new or soon-to-be parent has a lot to think about financially, but making a plan you can stick to is a good place to start."
This article was originally published on