LeBron James Dominates on the First Night of the NBA Restart
Bubble basketball is different, but LeBron is still King James.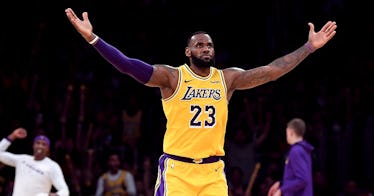 Getty
In what amounts to a dream scenario for both the NBA and the Los Angeles Lakers, the second game of yesterday's (re)opening night doubleheader ended as pre-pandemic NBA games often did, with LeBron James taking over.
The Lakers were playing the Clippers in an intracity rivalry game that's especially dramatic this season with those teams 1 and 2 in the Western Conference. The game was a back-and-forth affair that, after a Paul George 3, was tied at 101 with 28.4 seconds to play.
On the ensuring Lakers possession, LeBron launched an awkward running jumper from around the foul line. It hit the front of the rim and bounced back towards James, who ran through a scrum of all five Clippers on the floor. He somehow secured the rebound and gingerly laid the ball up before his feet touched the floor. It's not as flashy as a thunderous dunk or halfcourt three, but it's at least as impressive, particularly when you remember that LeBron is playing his 17th NBA season.
The shot fell with 12.8 seconds left, but LeBron wasn't done adding to his highlight reel. On the other end, LeBron played Kawhi Leonard tight, forcing a pass to Paul George, whom James forced out near the halfcourt circle. George was left to scramble back to the three-point line and throw up a three that missed wildly as the buzzer sounded.
There was a lot about the NBA's first night playing games in the bubble that was different. It was the first Lakers-Clippers game outside the Staples Center since the Clinton administration, and the computer-generated fans on the giant video screen next to the court were unnerving at best.
More seriously, every player on both the Lakers and Clippers knelt during the national anthem, arms linked, wearing Black Lives Matter shirts lined up in front of where that slogan had been emblazoned on the court. It was a reminder that the pandemic wasn't the only thing that had changed the world since the season was suspended.