NBA 2K Honors Kobe With Special "Mamba Forever" Edition of 'NBA 2K21'
The new edition will come with special cover art and exclusive digital content.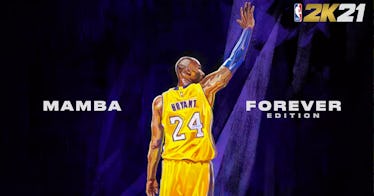 NBA
Since his sudden death in a helicopter accident in January, his friends and peers honored Kobe Bryant with a public memorial, LeBron James with a tattoo and a dunk, and NBA teams with 24-second pauses. Now, 2K Sports, publisher of the preeminent NBA video game series, is adding its own tribute.
The NBA 2K21 Mamba Forever Edition is a special edition of the latest title in the series. Like the non-Mamba editions, it will be released separately for both the current and next generations of consoles. The former will feature a cover painting of Bryant at the beginning of his career, wearing number 8, while the latter will have a painting of Bryant in the 24 he wore in his later years in the league.
This will be Bryant's third turn on the cover of an NBA 2K game. He previously appeared on the legend edition of NBA 2K17 and NBA 2K10.
In addition to the special covers — effectively hyped in this promotional video — the Mamba Forever edition of the game will come with a slew of exclusive Bryant-themed digital content like a Saphire Kobe card, a Mamba uniform, and Black Mamba jerseys, among other extra digital content to justify its $100 price tag, $40 more than the current console generation version featuring Damian Lillard on the cover and $30 more than the Zion Williamson-adorned edition for the PlayStation 5 and Xbox Series X.
Another benefit of the Mamba Forever edition will be the free upgrade it includes for players who move from the PlayStation 4 and Xbox One consoles to their successors. The non-Mamba versions of the game won't have an option, so players would have to shell out $130 to play on both present and future consoles.
All editions of 2K21 are available for preorder from the 2K Store today in both physical and digital formats. The current generation editions of the game will be available on September 4. The next-generation editions will be available as launch titles when their consoles are released this holiday season.