Confirmed: Live-Action 'Mulan' Will Ditch Eddie Murphy's Beloved Dragon
The movie looks fly. But Eddie is OUT.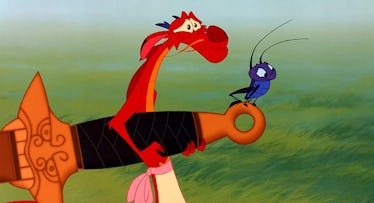 Disney
Despite the fact that we're living in a straight-up Eddie Murphy renaissance, the comedian won't be back doing the voice of arguably, his most famous children's character: Mushu the dragon. Niki Caro, the director of the upcoming live-action remake of Mulan has confirmed what we'd long suspected, based on rumors, the teaser trailer, and the official trailer for the film: Mushu will not be making an appearance.
The wisecracking dragon, who acted as Mulan's self-appointed guardian, played by Eddie Murphy gave the 1998 animated film a comedic heart. His absence from this remake is further confirmation that Mulan will be a straightforward action film aimed at families, a departure from recent trends. Caro explained the decision to Digital Spy.
"I think we can all appreciate that Mushu is irreplaceable. You know, the animated classic stands on its own in that regard. In this movie, there is a creature representative – a spiritual representation of the ancestors, and most particularly of Mulan's relationship with her father. But an update of Mushu? No."
It sounds like Caro is trying to do what every director faced with the difficult task of updating a classic should do: stay faithful to the spirit of the original while creating something interesting enough to stand on its own.
But if you're still understandably bummed about Mushu's absence, knowing that many of the beloved parts of the original film that will be included in this year's version.
"The matchmaker sequence from the animation, we were very, very faithful to that idea," Caro said. "And that's the only time you see Mulan really dressed in a very feminine way, because all of her other costumes for when she's a teenager are the costumes for a girl that likes to ride a horse, and a girl that likes to kick a ball, and are not so girly."
You can see for yourself what a Mushu-less Mulan looks like when it comes to theaters on March 27.
This article was originally published on