Disney Just Delayed All New Star Wars Movies Until 2023
Plus, here's all the other movies that are coming out late...or early!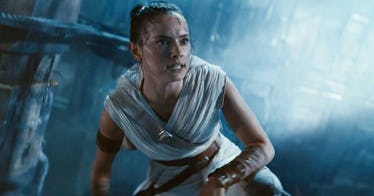 Disney
Good news for families! Those movies you wanted to see in theater are (mostly) going to be hitting home video or streaming super early. With public gatherings heavily discouraged or outright banned across the country, distributors are releasing some of their new titles to the only venue accessible to most people during the coronavirus pandemic: the living room.
Disney pushed a ton of new family-friendly fare already released in theaters to Disney+ early, everything from Onward, which was only in theaters for a month, to Frozen II to Star Wars: Rise of Skywalker. Artemis Fowl skipped theaters altogether, and Hamilton will do the same when it hits the service more than a year before it was due to come to theaters.
Other films released just before the pandemic, including Birds of Prey, also came to on-demand earlier than expected.
And now, the bad news. The other option for studios is to delay the release of their films in the hopes that the crisis abates and theaters reopen by the later date. It's one that they're choosing quite often, particularly for summer blockbusters, and it's one that's caused domino effects for other titles.
Disney has officially delayed every Star Wars and Avatar film scheduled for release between 2021 and 2027 by one year. Now, the next Avatar film is slated for 2022 and the next Star Wars feature will come in 2023. Mulan, the live-action remake of the animated film was delayed multiple times before Disney finally pulled it off the schedule, what amounts to an indefinite delay.
Christopher Nolan's Tenet was something of a lodestar for the industry, with the powerful (and theater-obsessed) director pushing hard to hold to the original July 17 release date. It was delayed for two weeks and then indefinitely, a depressing sign for those of us who love the big screen.
Wonder Woman 1984 was delayed from July to August, but Warner Bros. pushed it back again, all the way to October 2. The studio also pushed the fourth Matrix movie from May 2021 to April 2022, and slotted Godzilla vs. Kong into the old date.
The Batman, Robert Pattinson's premiere turn as Bruce Wayne is a much bigger blockbuster, so it's not shocking that it's sticking to a theatrical first release. Originally on the books for June 25 of next year, it's now slated to hit theaters on October 1.
The MCU's phase four has also taken on a dramatically different schedule. Black Widow, the first post-Infinity Saga film in the MCU, was pushed from May 1 to November 6, the original release date for The Eternals, now due for February 12 of next year.
That move pushed Shang-Chi and the Legend of the Ten Rings to May 7, 2021, which pushed the Doctor Strange sequel to November 5, 2021, which pushed Thor: Love and Thunder all the way to February 11, 2022.
The New Mutants got its fifth (!) release date, moving from April 3 to August 28. The X-Men spin-off was rumored to be destined for Hulu, but Disney — which didn't even own Fox when the first trailer for this movie came out in 2017 — wants to keep in in theaters, for now.
Elsewhere on the summer blockbuster landscape, No Time To Die was moved from April to November. F9 was originally supposed to be released in May but is now slated for an April 2021 release.
Sony is pursuing a similar strategy with a slew of other films, including Ghostbusters: Afterlife, Morbius, and Uncharted. Curiously, Greyhound, a Tom Hanks World War II movie was sold to Apple TV+.
Minions: The Rise of Gru was pushed a year to Fourth of July weekend 2021. That was the weekend Sing 2 was supposed to hit theaters; it's now on the books for the holiday season.
There's a lot to keep track of, so here's an up-to-date list of all of the coronavirus-caused changes to the movie release schedule.
On Subscription Streaming Services Early
Frozen II (Disney) – Disney+
Onward (Disney) – Disney+
Star Wars: The Rise of Skywalker – Disney+
Portrait of a Lady on Fire (Pyramide Films) – Hulu
The Lovebirds (Paramount) – Netflix
Artemis Fowl (Disney) – Disney+
Hamilton (Disney) – Disney+ (premieres July)
Greyhound (Sony) – Apple TV+ (premieres July 10)
The Spongebob Movie: Sponge on the Run (Paramount) – CBS All Access (premieres early 2021)
On Video-On-Demand Services Early
Birds of Prey (Warner Bros.)
Call of the Wild (20th Century)
Capone (Vertical Entertainment)
Downhill (Searchlight)
Emma (Focus Features)
The Gentlemen (STX Films)
The King of Staten Island (Universal)
The Hunt (Universal)
The Invisible Man (Universal)
Scoob! (Warner Bros.)
Trolls World Tour (Universal)
Bill and Ted Face the Music (United Artists) – September 1
Delayed Theatrical Releases
Unhinged (Solstice Studios) – August 2020
The Personal History of David Copperfield (Searchlight) – August 28, 2020
The New Mutants (20th Century) – August 28, 2020
Antebellum (Lionsgate) – August 21, 2020
Wonder Woman 1984 (Warner Bros.) – October 2, 2020
Candyman (TriStar) – October 16, 2020
The French Dispatch (Searchlight) – October 16, 2020
Black Widow (Disney) – November 6, 2020
No Time to Die (MGM) – November 25, 2020
Free Guy (20th Century) – December 11, 2020
The Tomorrow War (Paramount) – December 25, 2020
Fatherhood (Sony) – January 15, 2021
Peter Rabbit II (Sony) – January 15, 2021
The Eternals (Disney) – February 12, 2021
Nobody (Universal) – February 26, 2021
The Many Saints of Newark (Warner Bros.) – March 12, 2021
Ghostbusters: Afterlife (Sony) – March 5, 2021
Morbius (Sony) – March 19, 2021
F9 (Universal) – April 2, 2021
A Quiet Place II (Paramount) – April 23, 2021
Bob's Burgers (20th Century) – April 9, 2021
Ron's Gone Wrong (20th Century) – April 23, 2021
Shang-Chi and the Legend of the Rings (Disney) – May 7, 2021
Godzilla vs. Kong (Warner Bros.) – May 21, 2021
Spiral (Lionsgate) – May 21, 2021
Infinite (Paramount) – May 28, 2021
In the Heights (Warner Bros.) – June 18, 2021
Venom: Let There Be Carnage (Sony) – June 25, 2021
Top Gun: Maverick (Paramount) – July 1, 2021
Minions: The Rise of Gru (Universal) – July 2, 2021
Jackass (Paramount) – July 2, 2021
Jungle Cruise (Disney) – July 30, 2021
The Batman (Warner Bros.) – October 1, 2021
Uncharted (Sony) – October 8, 2021
Doctor Strange and the Multiverse of Madness (Disney) – November 5, 2021
Tom Hanks Elvis Presley biopic (Warner Bros.) – November 5, 2021
Untitled Spider-Man film (Sony) – November 5, 2021
King Richard (Warner Bros.) – November 19, 2021
Sing 2 (Universal) – December 22, 2021
Wicked (Universal) – December 22, 2021
Thor: Love and Thunder (Disney) – February 11, 2022
Untitled Matrix film (Warner Bros.) – April 2, 2022
The Flash (Warner Bros.) – June 2, 2022 (moved up)
Captain Marvel 2 (Disney) – July 8, 2022 (moved up)
Untitled Indiana Jones film (Disney) – July 29, 2022
Shazam 2 (Warner Bros.) – November 4, 2022
Delayed Indefinitely
Antlers (Searchlight)
Malignant (Warner Bros.)
Mulan (Disney)
Run (Lionsgate)
Tenet (Warner Bros.)
Woman in the Window (20th Century)